Solo show, Spanien19C, Aarhus (DK), 2019.
With the participation of: Mille Højerslev Nielsen, art critic; Ole J. Knudsen, astronomer; musicians Sofus Forsberg, and Goodiepal & Pals collective; artists Jemila MacEwan, and Anthony Faroux.
2019, OK refers to the "city killer" asteroid that hurtled past Earth that July at an uncomfortably close proximity. The collision did not happen, 2019 was spared, we are OK. Being in contact with meteorites is one aspect of my research. As they are vestiges of the past and constitute distant memories, they help us to delve into our doubts, and question our fears and their representations. The various forms I use are thought of as invitations to vertigo: from the depth of the cosmos, to spaces between humans, non-humans, or technologies. It is by reimagining the spatio-temporal configuration of our Western modernity that I use the exhibition to question our ways of living, of how we inhabit the Earth at a time when the climate emergency forces us to rethink our relationships with other living systems. This project ranges from fiction to documentary. I employ multiple forms of expression and invite scientists, other artists, and musicians to collaborate. C.L.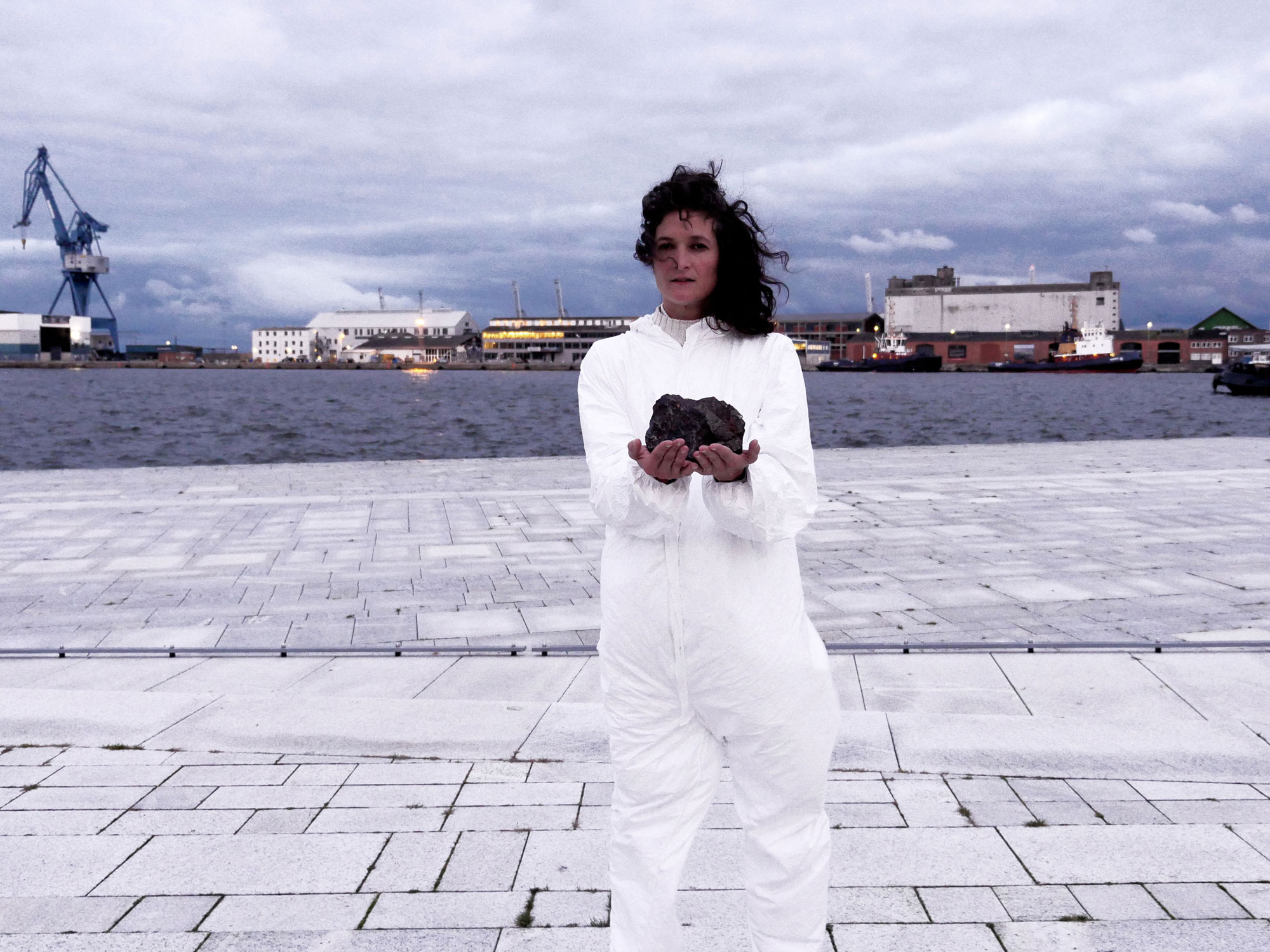 Meteorite's Birthday Performance Walk, Aarhus.
Thanks to a loan from the Copenhagen Natural History Museum, a sample of the Aarhus Meteorite was presented in my show. On the 5th of October, I proposed a collective walking performance to share in a celebration: the 68th anniversary of the Aarhus meteorite's fall to Earth. Departing from Spanien19C we made our way to the woodland of Risskov. Each participant was given a kit composed of a survival blanket and stickers with printed images and texts that could be applied to the blanket during the walk. Astronomer Ole J. Knudsen and art critic Mille H. Nielsen were invited to propose punctuated stops for short tales during the walk. C.L.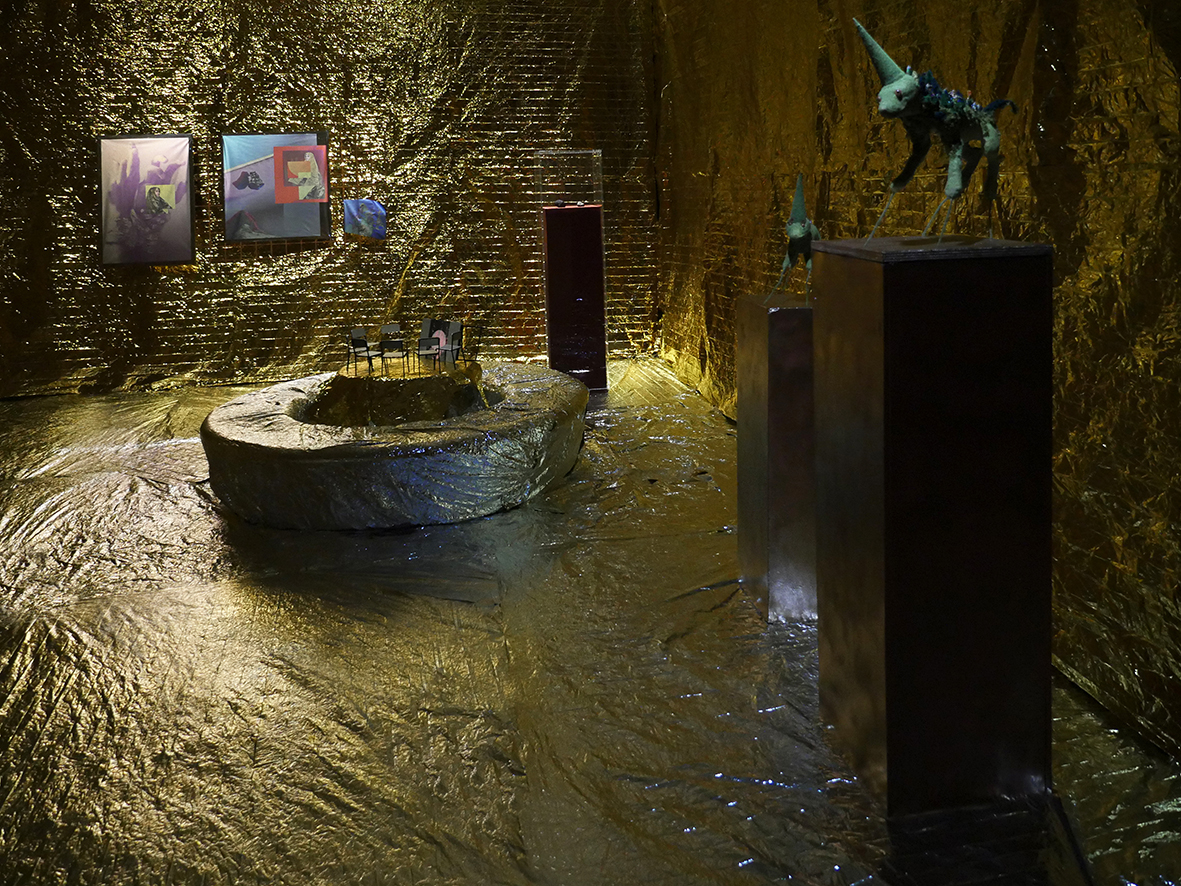 Survival blankets are covering the whole exhibition space, but unlike a Gesamtkunstwerk (total artwork), one is invited to enter into a golden sparkling lair, a backdrop that influenced the creative process. Stories intersect: that of the blanket's invention by NASA for its extraterrestrial explorations, whose discovery coincides -almost the same year- with the fall of the Aarhus meteorite; additionally with the tale of Jules Verne's The Meteor Hunt, in which men were fascinated, then frightened out of their minds by a meteor made of pure gold revolving around our planet before falling in Greenland. Despite the value of gold dominating our capitalist society, those who wear a survival blanket are theoretically in danger (of death). Refugees are escaping their homeland for political or economic reasons, but also now for ecological ones. It is an object that provokes us to reflect on the fact that humans endanger our planet. To survive we must rethink our relationships with our environment, the non-human and create other ways of co-existing. C.L.
Beast-Worlds (Occupied Forest and Soil Analyses)
2 sculptures, diorama figurines & vegetation, flocking, polyurethane foam forms, metal, 65 x45 x 22 cm, 2019.

"Laquet presents two moss green sculptures that look like a mix between a dog and a unicorn. On the back of these animal-like sculptures are a group of tiny human beings. Some sunbathe naked, others are fighting or being beaten, and there seems to be no connection between their various actions. Viewers may ask whether they see each other or even register that they are not alone." 
Mille Højerslev Nielsen, extract of 'All correct' in 2019 – or not?

Crawling
Oil painting on canvas, 130 x 97 cm, 2008.

G7 Summit
Sculpture, 7 chairs and a table in 1/10 scale (metal and painted wood), motorized turntable, painted print and collage, [seats: 165cm circumference, turning table 55cm circumference, models (chairs: 7x10x5 cm / table: 20×15 cm) ], 2019.
"(G7 Summit) is an installation composed of a donut-like sitting area with a turning table in the middle of a ring of small empty chairs. The chairs face a painted collage representing a group of men in suits looking passively at the Earth. It reminds us of the set-up for a parliament meeting and directly references the G7 Summit, where, since 1975, the leaders of the world meet annually to discuss economic policies – and more recently also the ecological state of the planet. Just like in Laquet's collage however, they seem to be just looking at the Earth instead of moving towards change and action. To quote Swedish activist Greta Thunberg: "Some people say that we are not doing enough to fight climate change. But that is not true. Because to "not do enough" you have to do something. And the truth is we are basically not doing anything"  Mille Højerslev Nielsen, extract of "All correct' in 2019 – or not?"

Geometric Sprawl
HD film, 22min, 2019. Music performed live by Sofus Forsberg, Decipher Performance Festival, Institut for X, Aarhus (DK).
The setting of the film is uninhabitable and inhospitable to humans, yet those humans continue to explore, survey, construct, and colonize to survive. Like a forewarning of what might happen next, the main question arises: how to inhabit, considering the changes to come due to global warming? As a certain critique of capitalism, Geometric sprawl documents a utopian act performed by a handful of characters building in a desert. Their actions are quite mechanical, within an apocalyptic atmosphere. In a space between documentary and fiction, the film is made up of sequences combined in a raw style. During the performance, Sofus Forsberg improvised music to the footage which greatly influenced and entered into the final edit of the film. The electronic repetition is leading to a space-trance-like state, it is accompanying a strange drive, where these humans seem to reconstruct a civilization, or maybe are simply attempting to colonize the forbidden space, the inhospitable? C.L.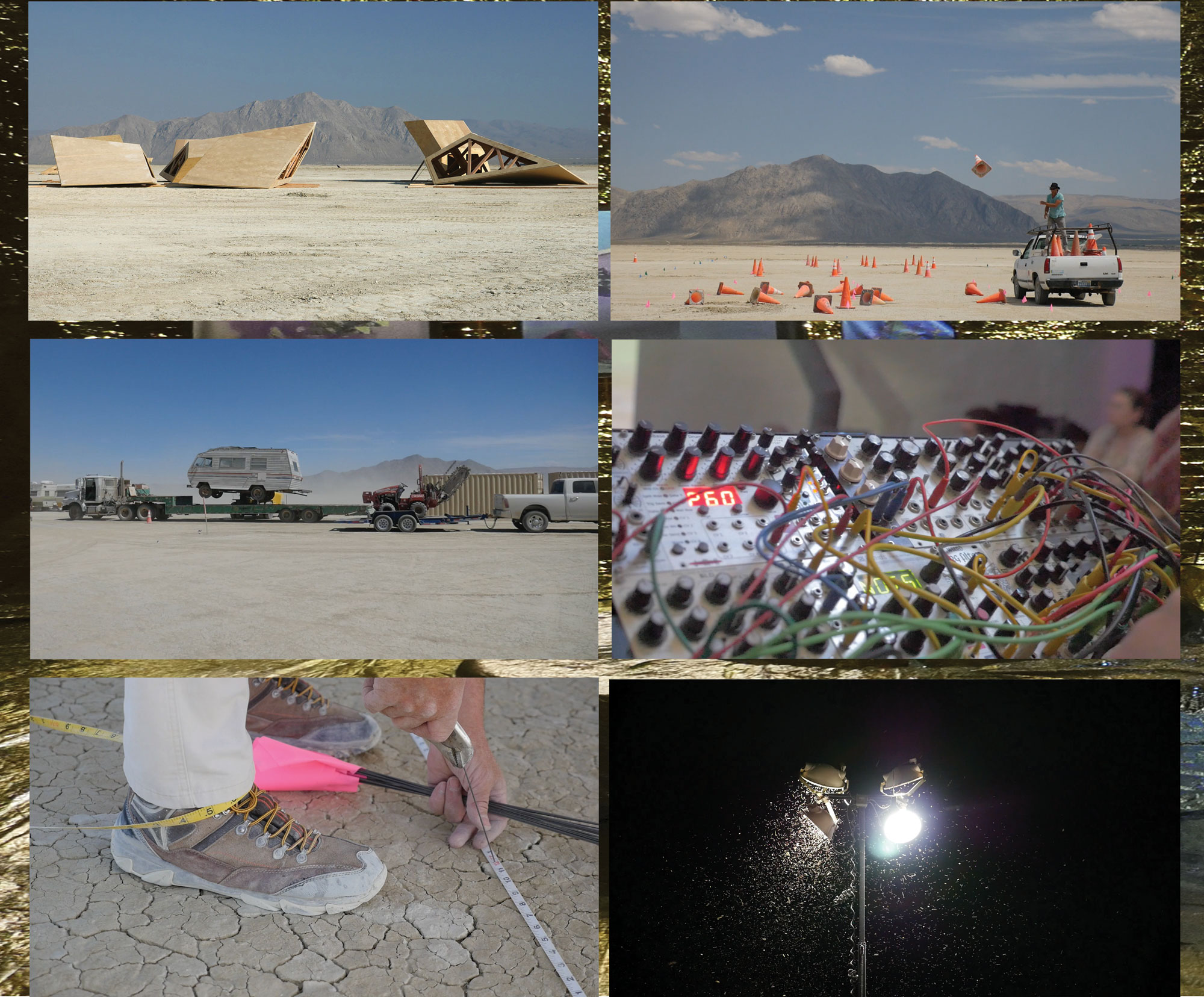 Link to the film Geometric Sprawl
Survival Wraps
Series of 3 photographs printed on stickers (silver film) on a metal grid, 2019.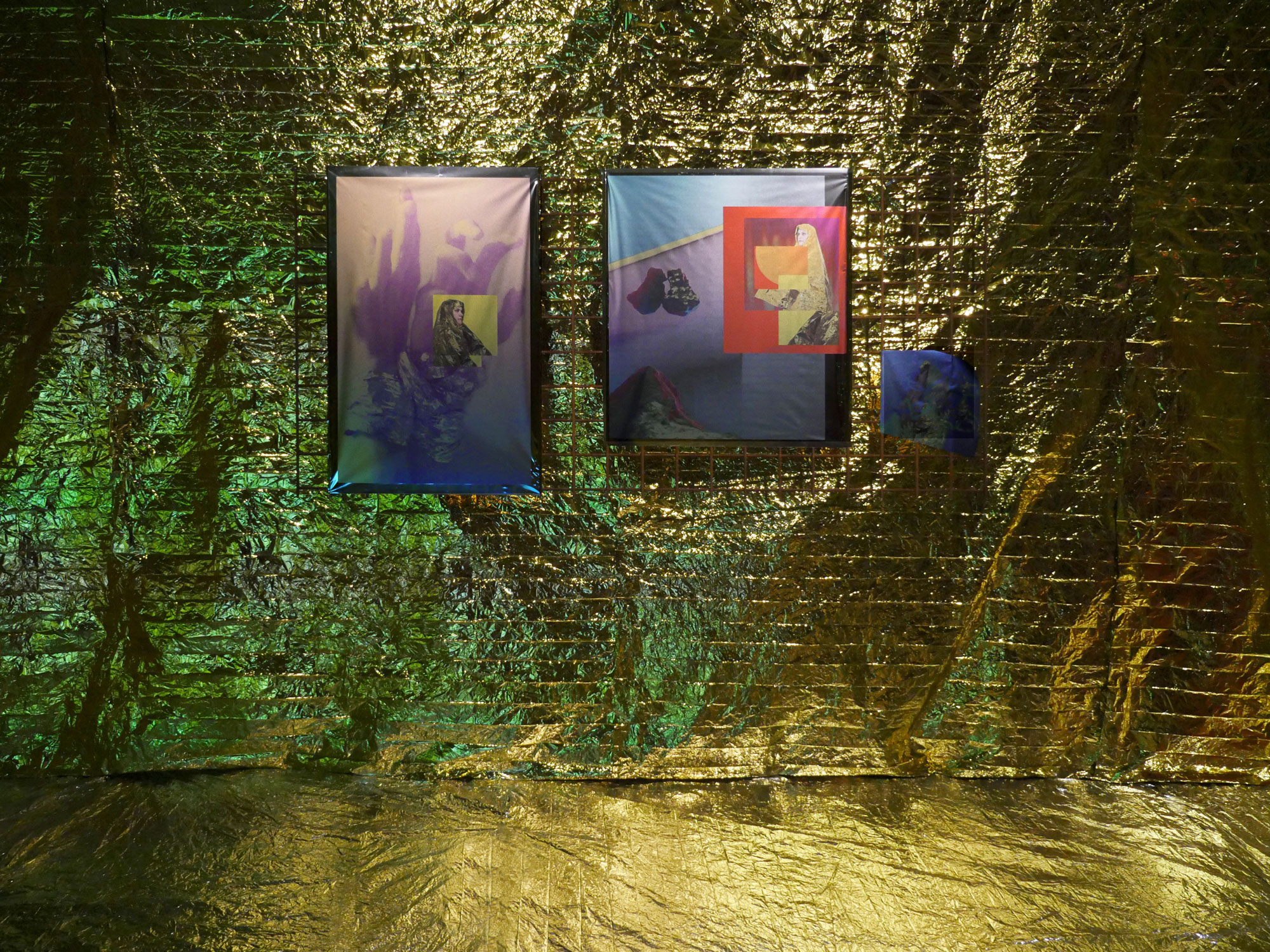 When you are enveloped by a survival blanket, there is often danger (perhaps of death). Survival Wraps is a series of photos printed on large stickers which are delicately placed on a rebar grid -away from the wall- so that the image vibrates slightly. The composition shows an action (where I twist the blanket between my forearms) with a portrait of a woman, a meteorite with a different portrait of the same woman (whose religious affiliation seem to vary at a glance, while remaining the same), and a condensed abstraction of the other images. C.L.
Various images of :
– Preamble of the show with The Sky Chart of the date of the Aahrus Meteorite's fall (rotating light projector) / Human Meteorite by Jemila MacEwan (2 photographs) and 2 paintings by Anthony Faroux  // LEGO® 'Women of NASA' set featuring pioneering women from the space agency.
– Geometric Sprawl performance with Sofus Forsberg, Institut for X  
– Goodiepal & Pals collective performance (exhibition finishing & destruction)
– Installation of the show 

Read the Press release by Mille H. Nielsen
Read the Aarhus Stiftstidende article by Christian Salling (in Danish)