Solo show, White Project Gallery, Paris (FR), 2015.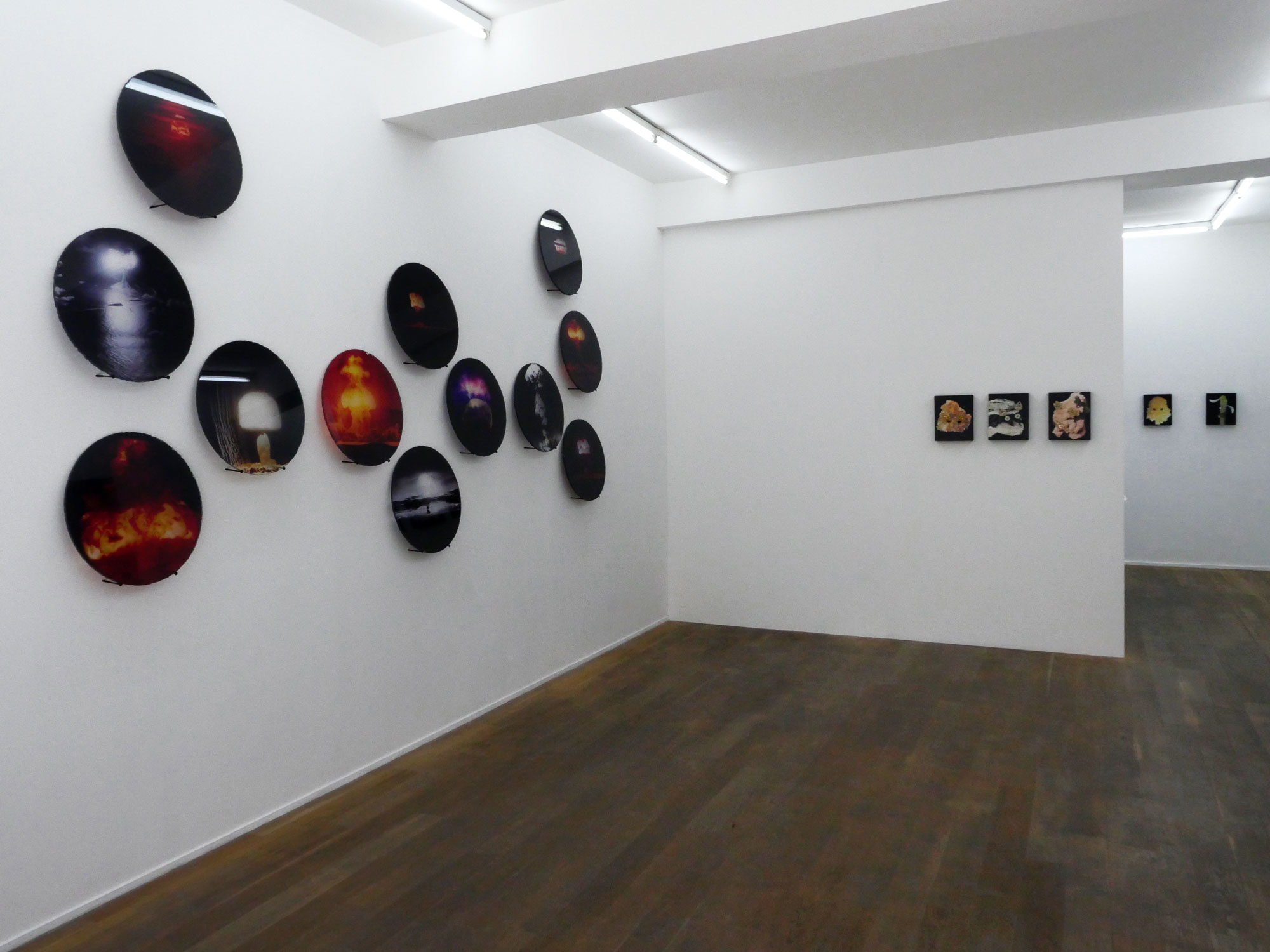 For her solo show Christine Laquet proposes the form of a parade to which is affixed the adjective bilateral, a term usually used in politics. The artist thus engages a creative dialectic, as if agreements or mutual commitment were necessary. Penetrating into the history of the earth's depths, starting from images of rocky strata and referring to this time called the anthropocene, the artist evokes the disorder of an ongoing era and encourages one to renew relationships with the living. Inspired by the anthropologist Philippe Descola, she intends to go beyond this dualist Western position, by stipulating that nature is itself a social production, and that the four modes of identification (totemism, animism, analogism, and naturalism) have a strong common repository.
The Long Now Project
 Series of 12 photographs, double UV printing on ​​Plexiglass (each disk: 50cm ø x 1cm), 2015.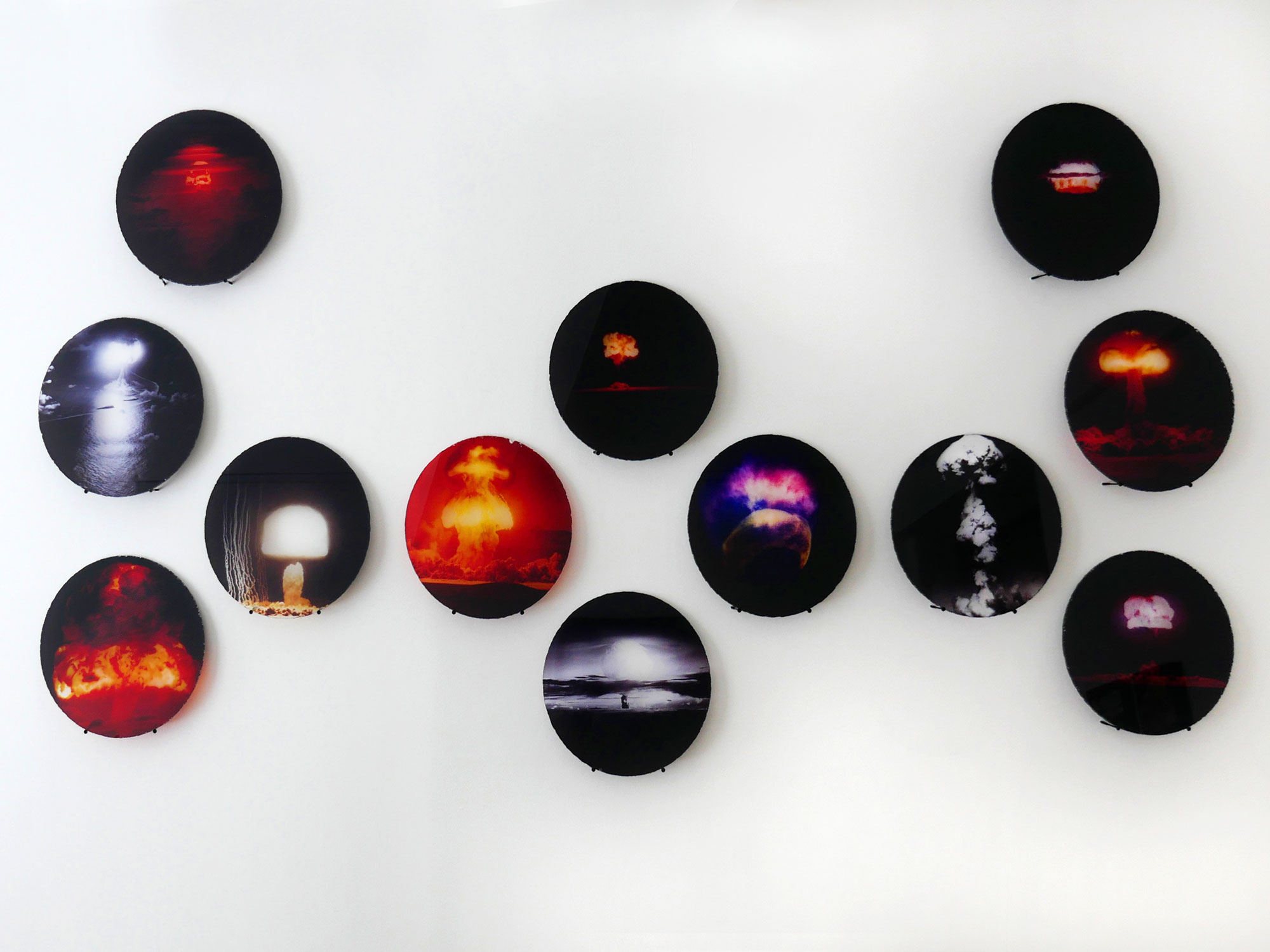 The title of the project is inspired by an invention of American researcher and activist Stewart Brand: a clock whose independence, strength, and accuracy will be able to operate during the ten thousand years to come. Accompanied by Brian Eno, scientists, and financiers, their hope is to provide a counterpoint to the accelerated culture we live in and to contribute to a long term reflection about the commons. The invention of the atomic bomb anchors our human actions in chaos, as a final moment of destruction and annihilation. Christine Laquet chose to select twelve nuclear tests photographs, taken between 1945 and 1962 in the United States and hang them to the wall with the symbolic form of a mandala, supposed to cure « an evil ». Twelve pictures –design like a spread clock- as an attempt to cast a spell to rethink time and the speed of the world. The incandescent color images are arranged on the wall like an explosion, reflecting a terrible beauty. C.L.

Ways of Seing (The Deer)
Acrylic and japonese ink on polyester net, 3 x 2 m (118,1 x 78,7 inches), 2012.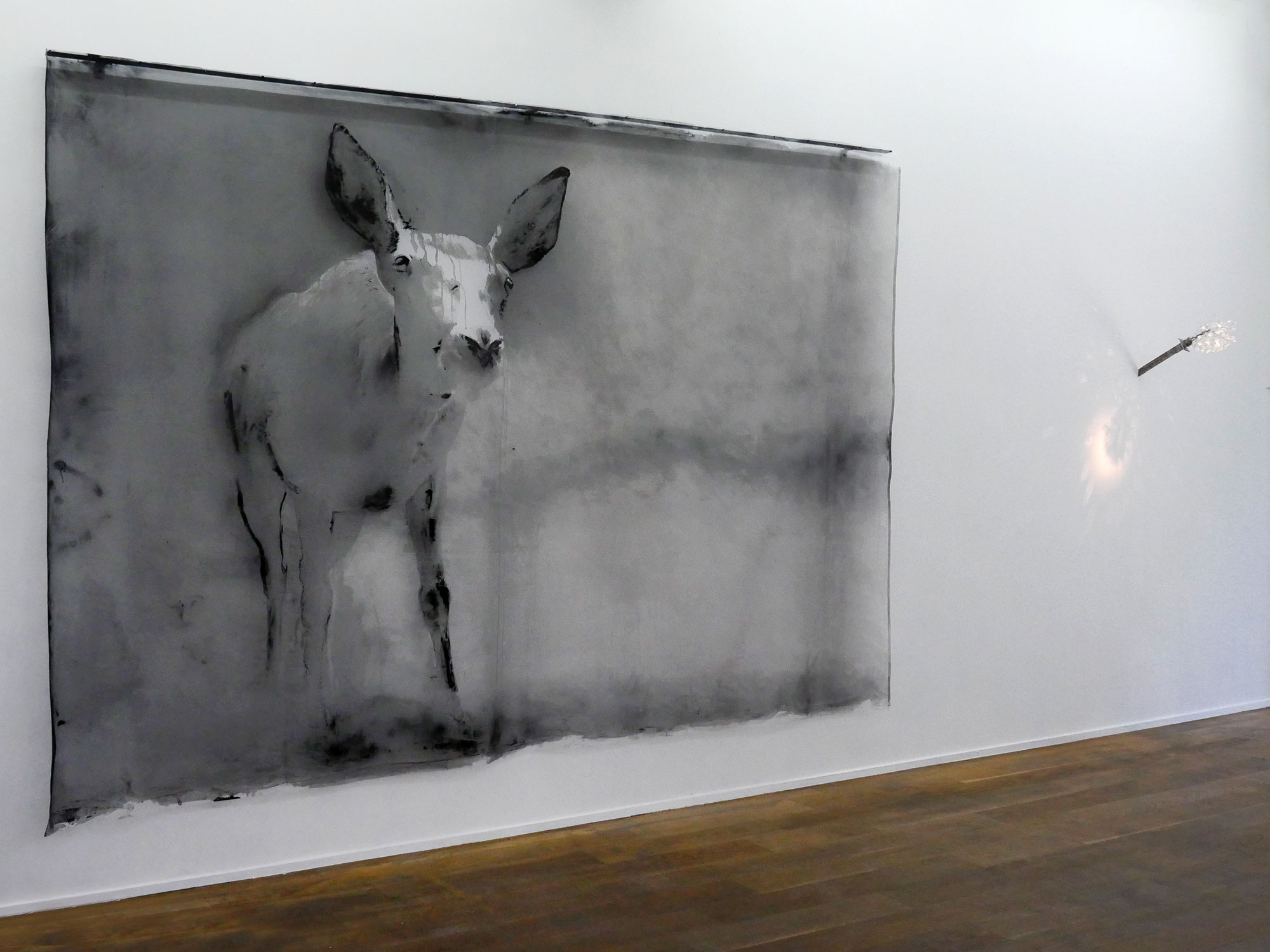 Knife, Poznan
Mixed media sculpture – dagger, blown glass, cristal pearls (from an early XXe Portuguese chandelier) -, 60 x 20 cm (23,6 x 8 inches), 2013.
Since 2013, I have started a long-term series called Knife, … then I add the name of the city for which I created it, as if to mark a place or a belonging. Like a ritual object, each knife is defined by its ability to open, pierce, cut, stab … a wall. Scrupulously chosen, the materials evoke the history of a place, or relate to certain emotions that it can induce. The Knife,… embody a gesture that tries to pierce an infection or to open other horizons. C.L.
On Specimens' Strength
Series of 25 collages on wooden boxes (ornamental trimmings and synthetic stone on offset printing), 22.6 x 28.6 cm (8,9 x 11,3 inches), 2015.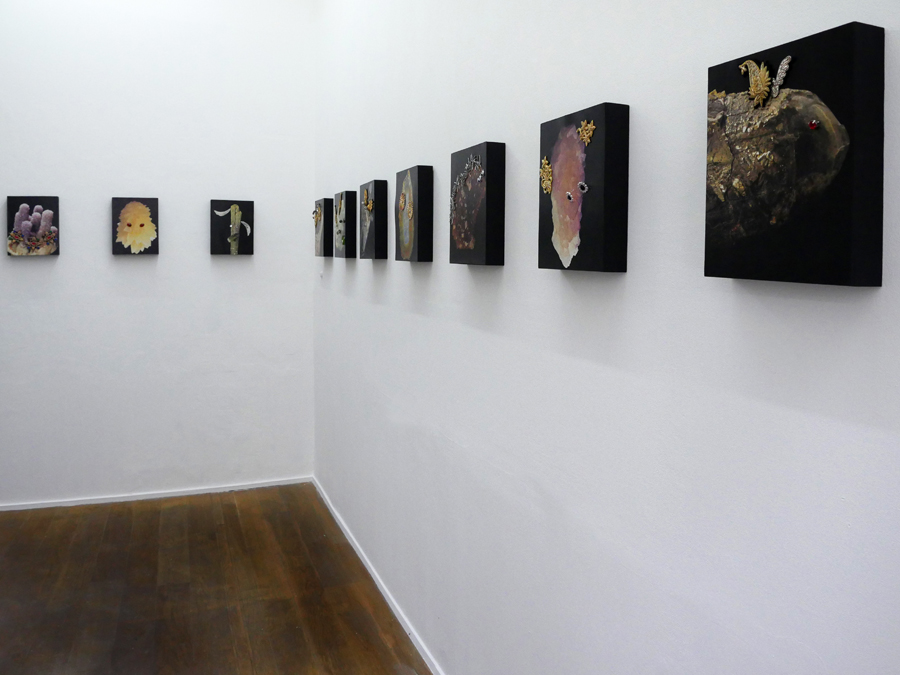 True memories of the planet, certain stones seem to contain both the original past and the future. They seem frozen in time, but their strata are the sign of perpetual movement: they induce a dilation of time. On specimens' strength is a gallery of portraits which borrows from the cabinet of curiosity. Photographed with a black background, each precious stone corresponds to a specimen that I illuminate with embroidered trimmings and synthetic stones, to bring out unexpected traits and to examine the border between its animate and inanimate nature. This series refers to the Treasures of the catacombs (Paul Koudounaris, 2013). Discovered in Italy in the 16th century were incredible skeletons of saints adorned with stones, as if the mineral imbued with supernatural powers embodies the soul at the heart of matter. C.L.
"Every stone is a mountain in power, every man is a grain of sand, a force of resistance." Roger Caillois, La Lecture des Pierres, Xavier Barral / Paris Natural History Museum, 2015.