Collective show, ZAMEK Culture Centre, Poznan (PL), 2013. Curator: Agata Rogoś.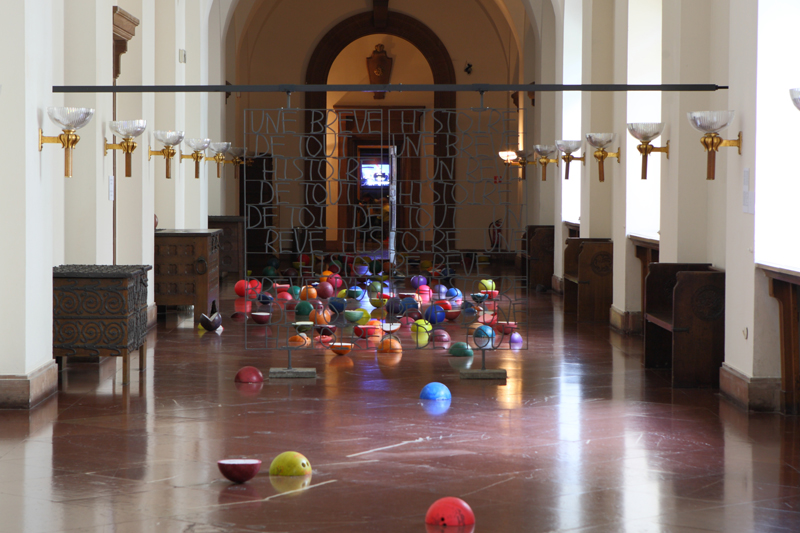 A Brief History of Everything
                2 steel reinforcement bar gates, 104 x 180 cm (40,9 x 70,9 inches) each, 2012.
 
"The exhibition is unleashing the philosophy of victory. Obsession of victory or being successful at least is crucial part of public sphere and ritualizing of spectacle. The deepest layer of striving to power and victory might be referred to dreams of excellence. Experiencing of exultation of victory is lasting just like an eye twinkle and is spreading away immediately after a second. The aim of this particular project is making impossible possible – to analyze this very special and imponderable moment. The production of happiness and all-embracing joy in the public space is mostly visible in the public rituals and spectacles of the body and sports. Sport is as a matter of fact an attempt to extend the feeling of happiness forever. The exhibition will be focused on the issue of sport (taken as a philosophy and the way of expressing ideology), struggle and rivalry and also as a very important component of those issues – failure. In this structure: STRUGGLE, RIVALRY and FAILURE will become a trap creating ritualized spectacles of the public sphere. We are all part of this spectacle in it is very difficult to exclude oneself from the rituals. Social system imposes individual some forms of behavior and makes us the actors of one spectacle where it is equally important to be a part performative act of struggle and rivalry and short moment either of victory or of failure. Is it possible to get out of these firm frames of ritualized spectacle? What can be discovered on the other side?." Agata Rogoś.
Knife, Poznan
Mixed media sculpture – dagger, blown glass, cristal pearls (from an early XXe Portuguese chandelier) -, 60 x 20 cm (23,6 x 8 inches), 2013.
Invited by the curator Agata Rogoś to exhibit at the Zamek Culture Center, I found myself visiting this large building freshly renovated: a magnificent place, which nevertheless made me shudder when I discovered, identically renovated, Hitler's office and appartment. I was challenged by the design of the 3rd Reich, particularly by the luminous sconces made of crystal, making the long corridors sparkle. I set out to create a new Knife (see my Knife, … series) to come and pierce the wall, as if to burst an abscess. A strong image came to my mind: that of the Diodon fish which, when afraid have the particularity of swelling their body strewn with thorns to protect themselves. Then in reference to the stigmata of the history and the place, I decided to hijack a hunting dagger (which were carried by the SS) and to decorate the handle with a blown glass, on which I came to glue crystal beads in provenance of a Portuguese candlestick from the early 20th century. This as a reminder of Salazar: the only dictator in place in Europe at that time, when Hitler was doing everything to become one. Subtle powers of crystal: the act of coming and puncturing that wall acted as if to destroy these fascist doctrines, and as if to heal them, letting the sparkles of the crystal respond and spread. C.L.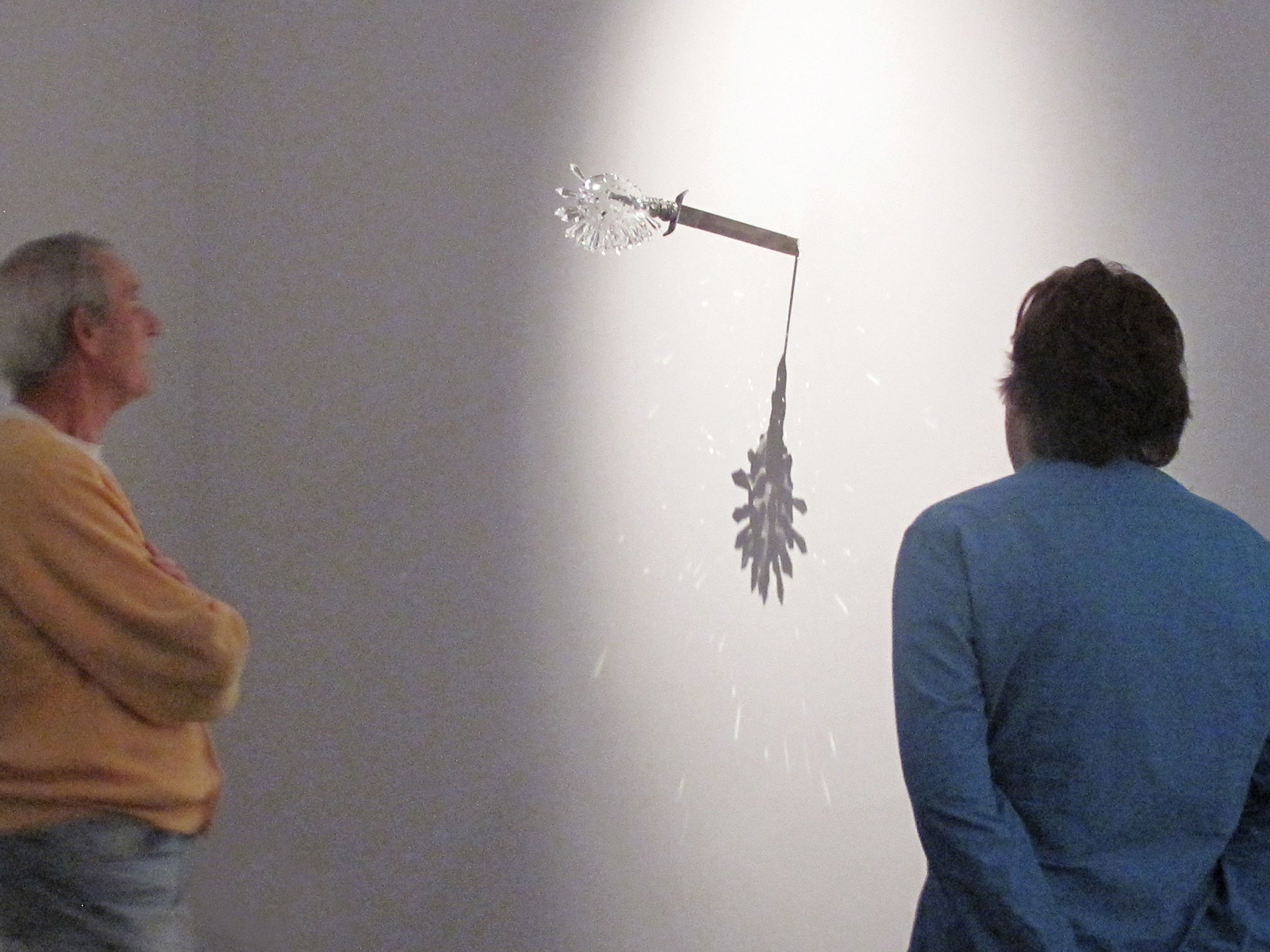 Since 2013, I have started a long-term series called Knife, … then I add the name of the city for which I created it, as if to mark a place or a belonging. Like a ritual object, each knife is defined by its ability to open, pierce, cut, stab … a wall. Scrupulously chosen, the materials evoke the history of a place, or relate to certain emotions that it can induce. The Knife,… embody a gesture that tries to pierce an infection or to open other horizons. C.L.