Solo show, Udstillingsstedet Spanien19C, Aarhus (DK), 2019.
with the participation of the art critic Mille Højerslev Nielsen, the astronomer Ole J. Knudsen, the musician Sofus Forsberg, the artists Jemila MacEwan et Anthony Faroux and the music collective Goodiepal & Pals.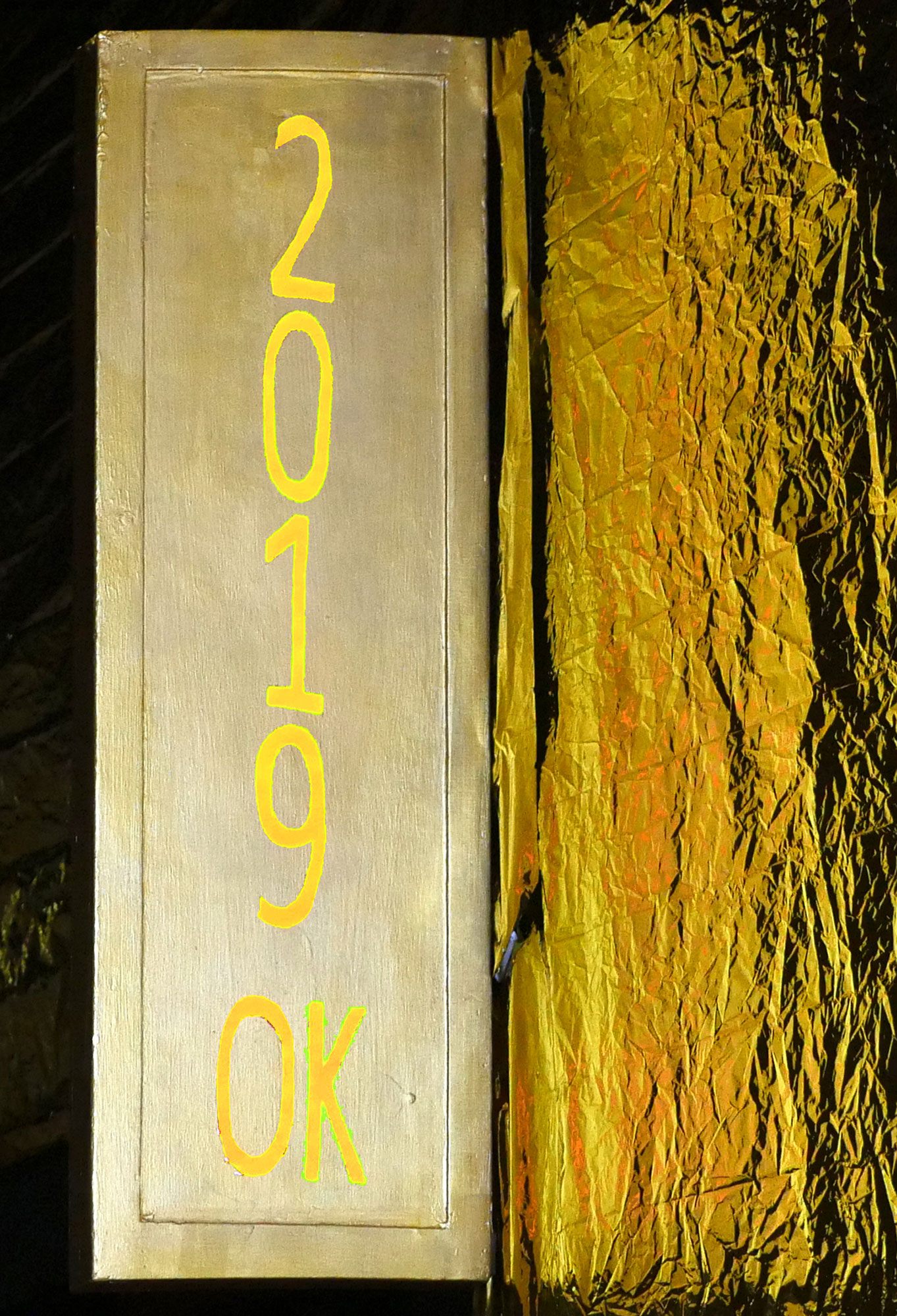 The title 2019, OK refers to the "city killer" asteroid that hurtled past Earth last July at an uncomfortably close proximity. Being in contact with meteorites is one aspect of Christine Laquet's research. As they are the vestiges of our past and constitute our most distant memories, they help us to delve into our doubts, and question our fears and representations. Thanks to a loan from the Copenhagen Natural History Museum, a sample of the Aarhus Meteorite will be shown in a new context ; and the 5th of Oct., Laquet will propose a collective walking performance at 11am to share a celebration: the 68 years old of the anniversary of its fall on Earth. From fiction to documentary, Laquet employs multiple forms and she will regularly invite other artists, art critics, and scientists to collaborate during the show. 2019, OK is clearly thought of as an invitation to the vertigo of elsewhere and to the depth of space. While rethinking the configuration of spatio-temporal relationships between humans, non-humans or technology, the exhibition will also question how to habitate and re-imagine the temporality of Western modernity.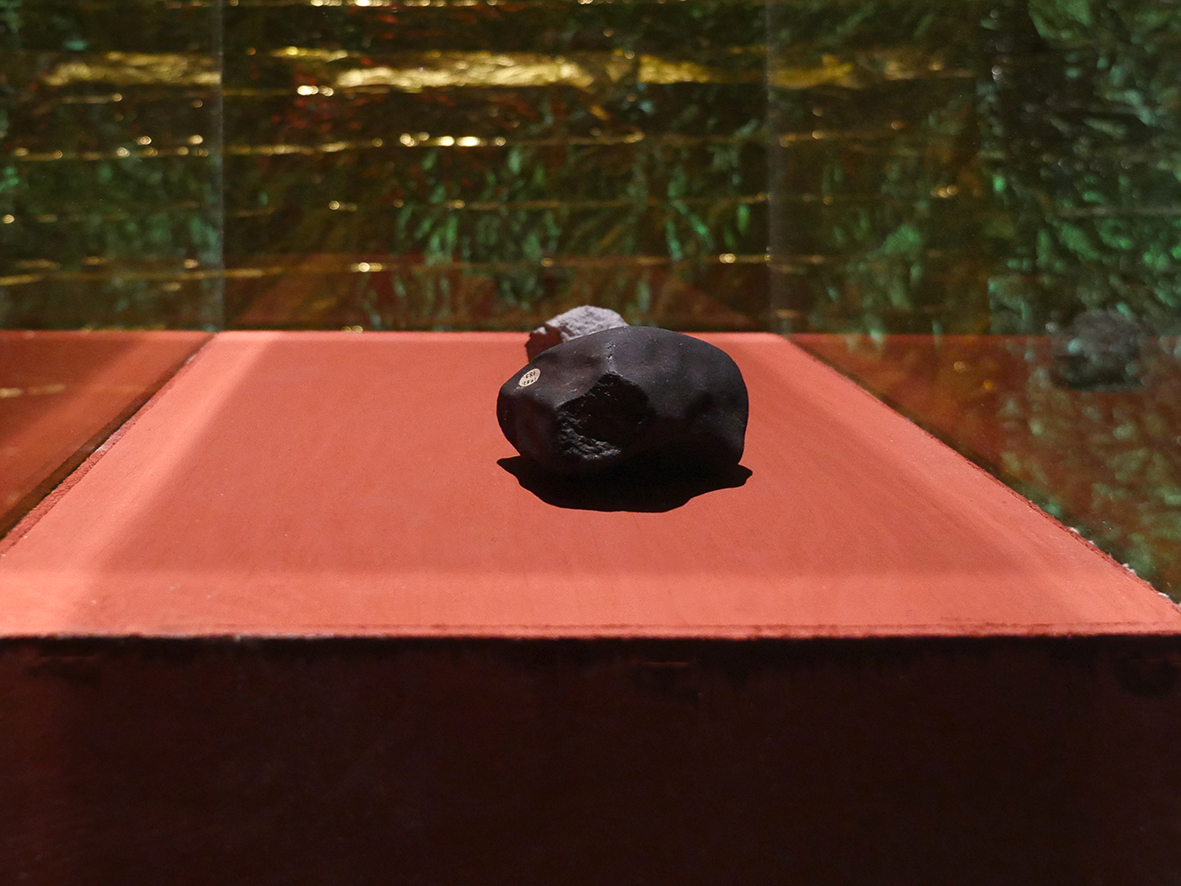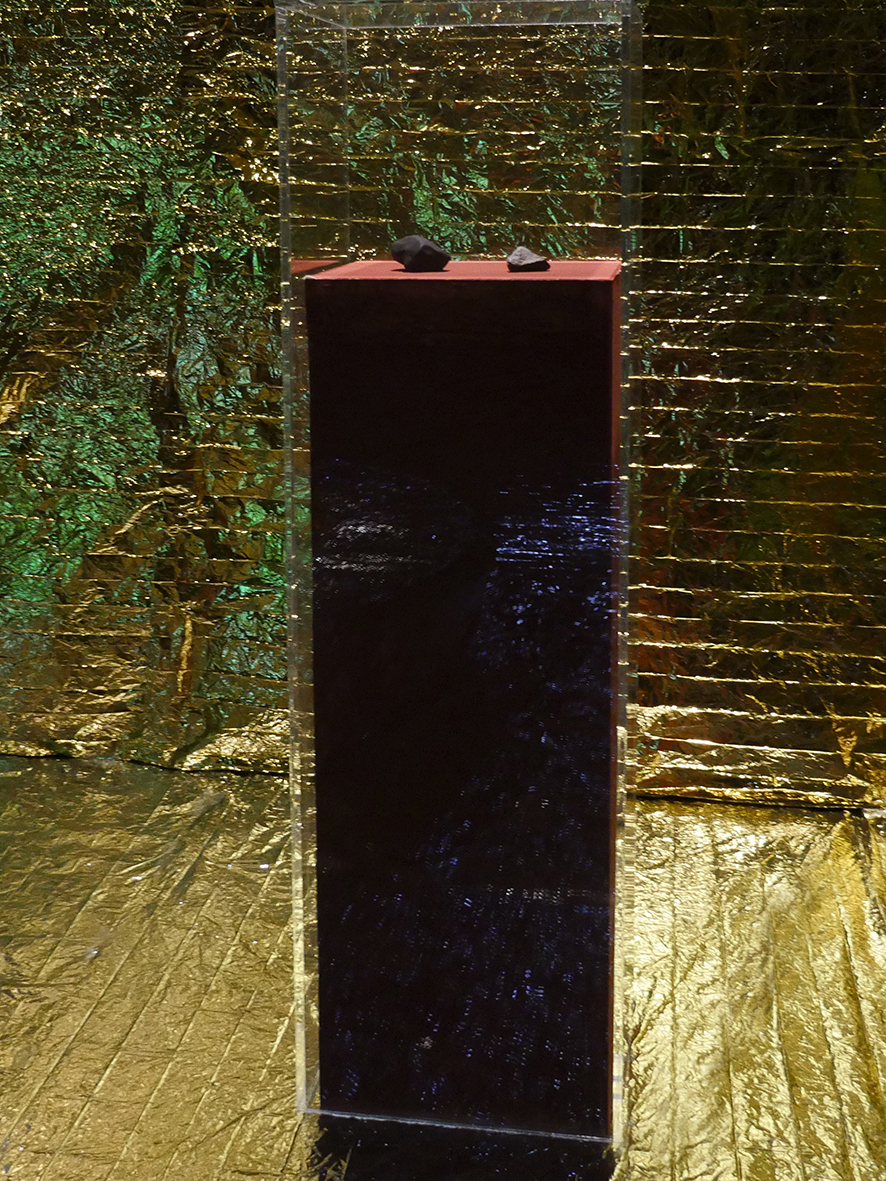 Aarhus Meteorite
Coll. Natural History Museum of Copenhagen (DK).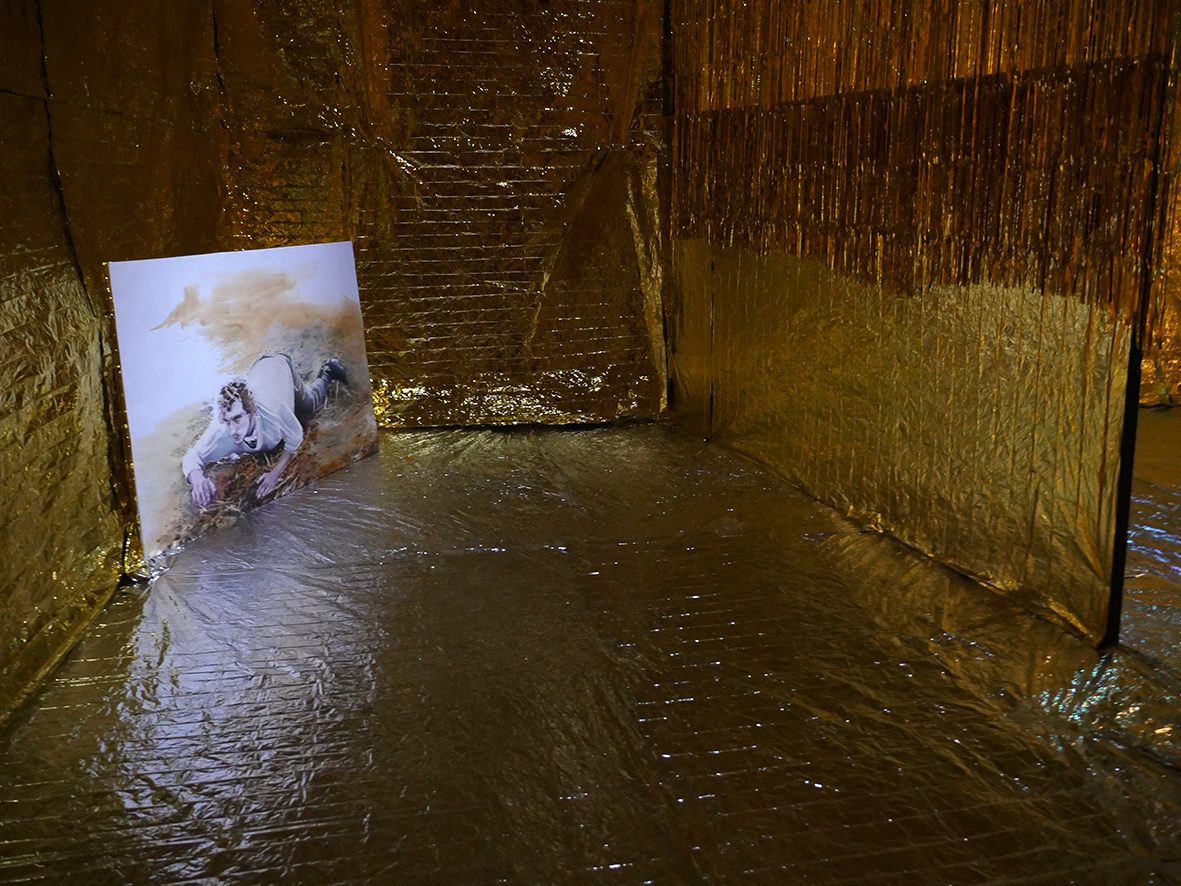 (Them) staid hidden till now
Oil painting on canvas, 130 x 97 cm, 2008-2019.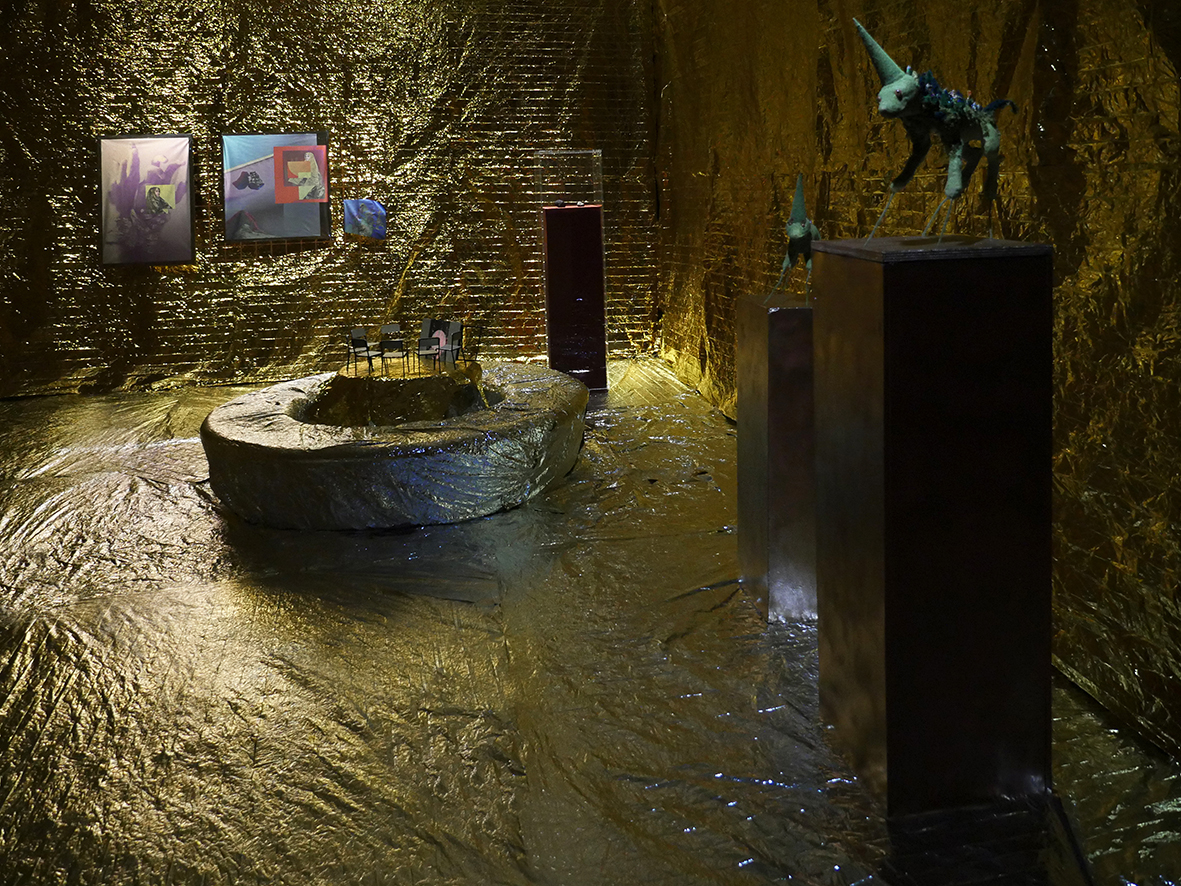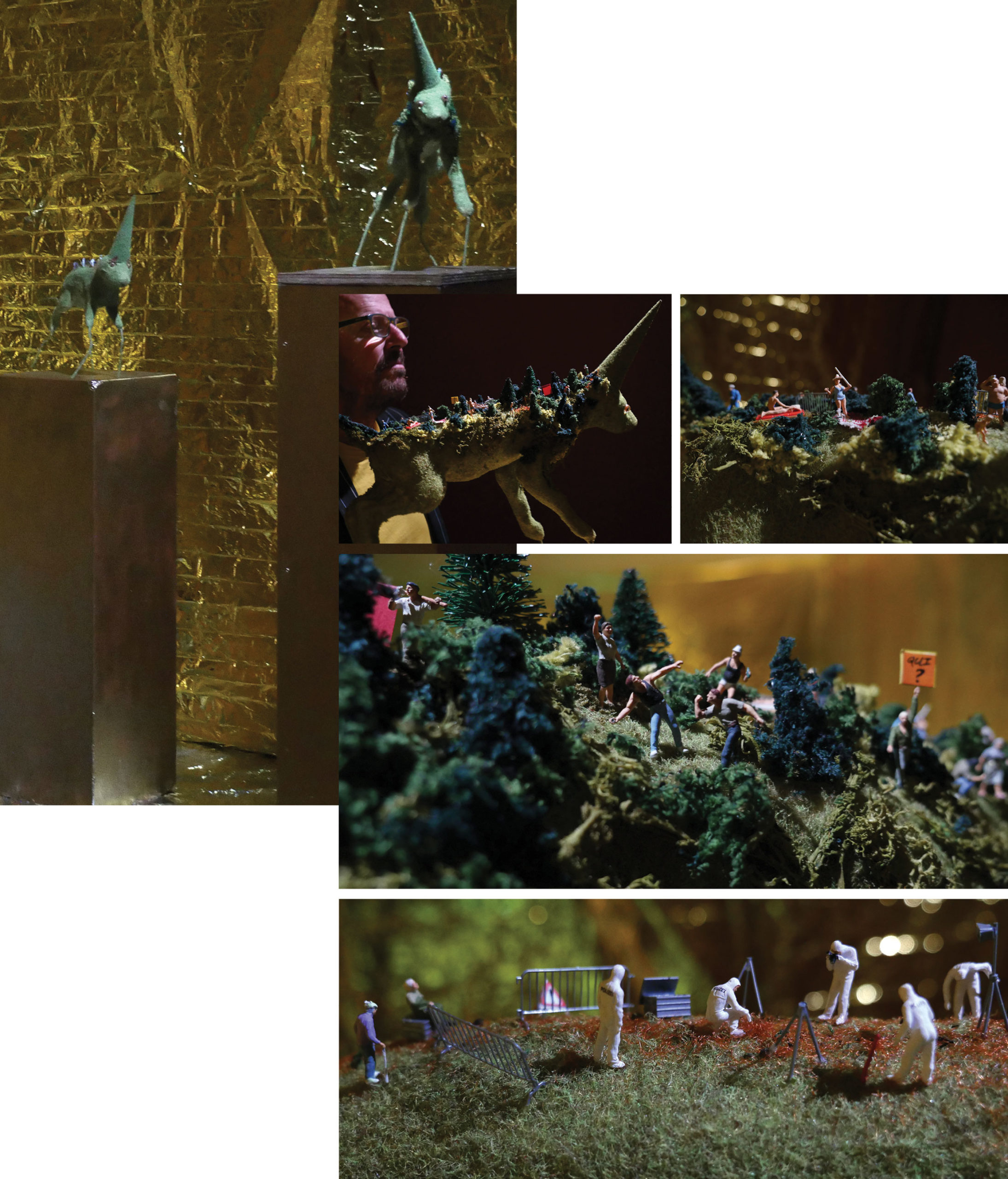 Beast-worlds
#1 Occupied forest   #2 Soil analyses
Diorama figures & vegetations, two flocking polyurethan foam sculptures, metal, 65 x45 x 22 cm, 2019.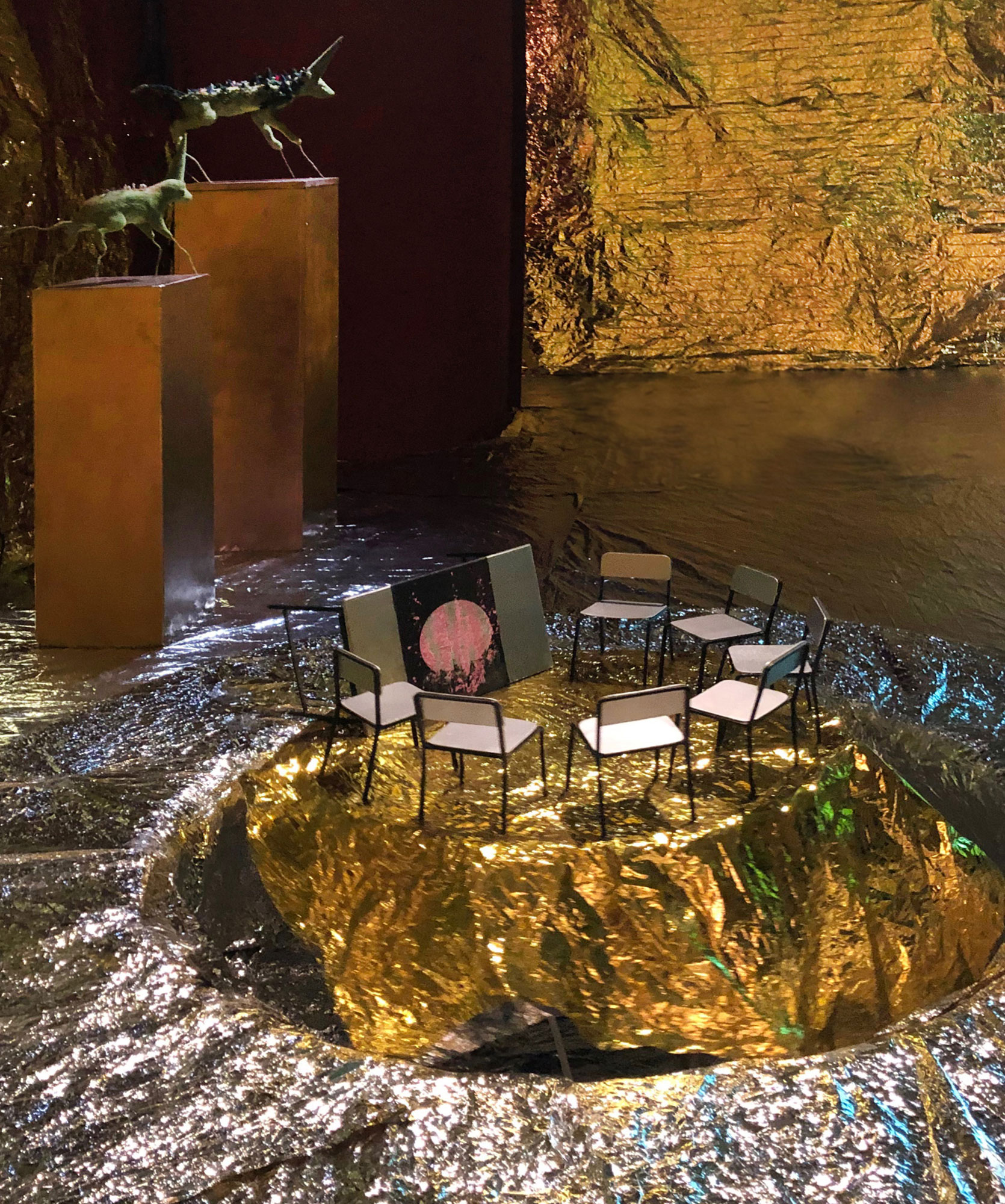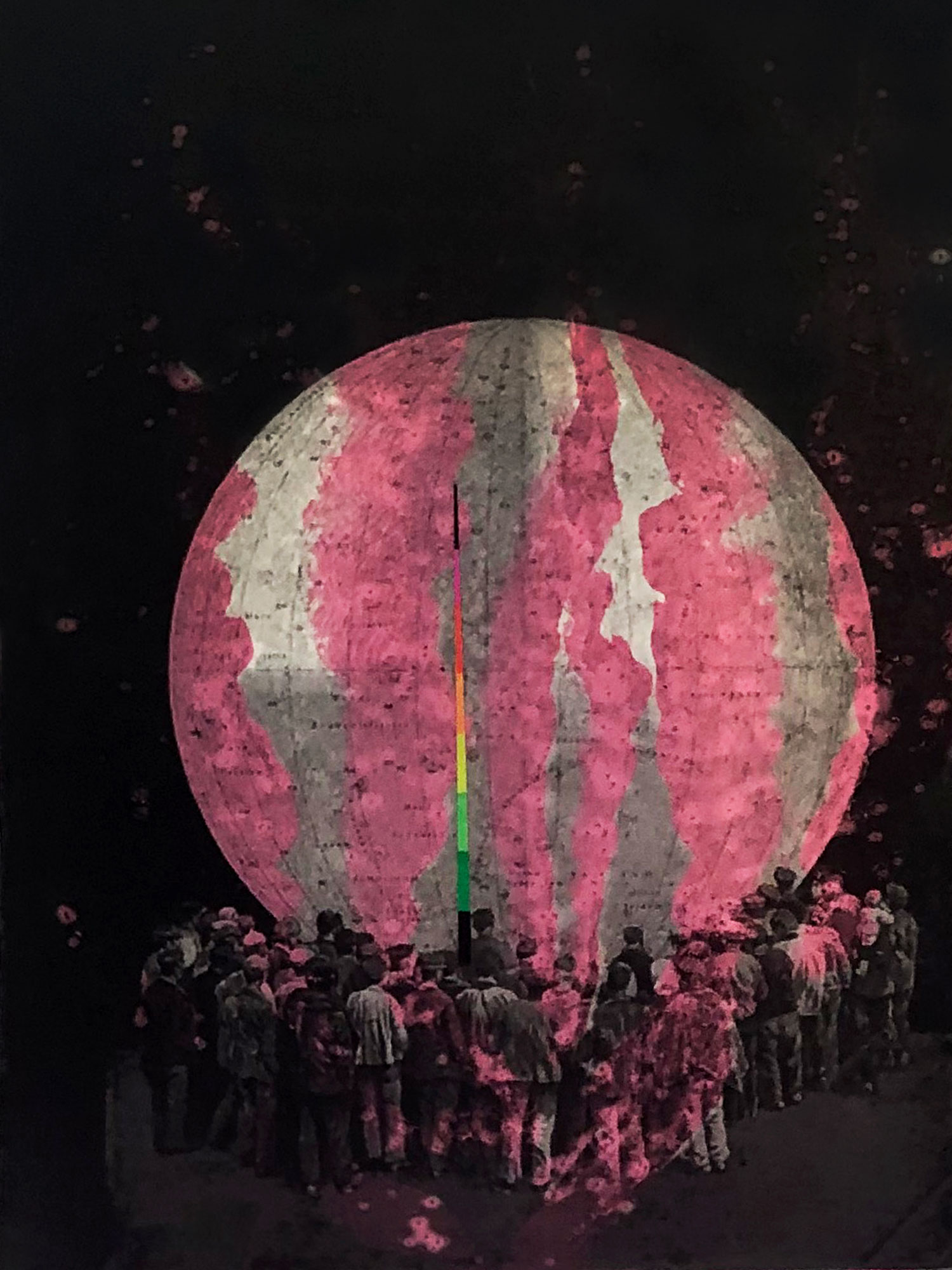 G7 Summit
7 chairs, one upside-down table on 1/10 scale (metal and painted wood), engine for a turning tray, painted print and collage, 2019.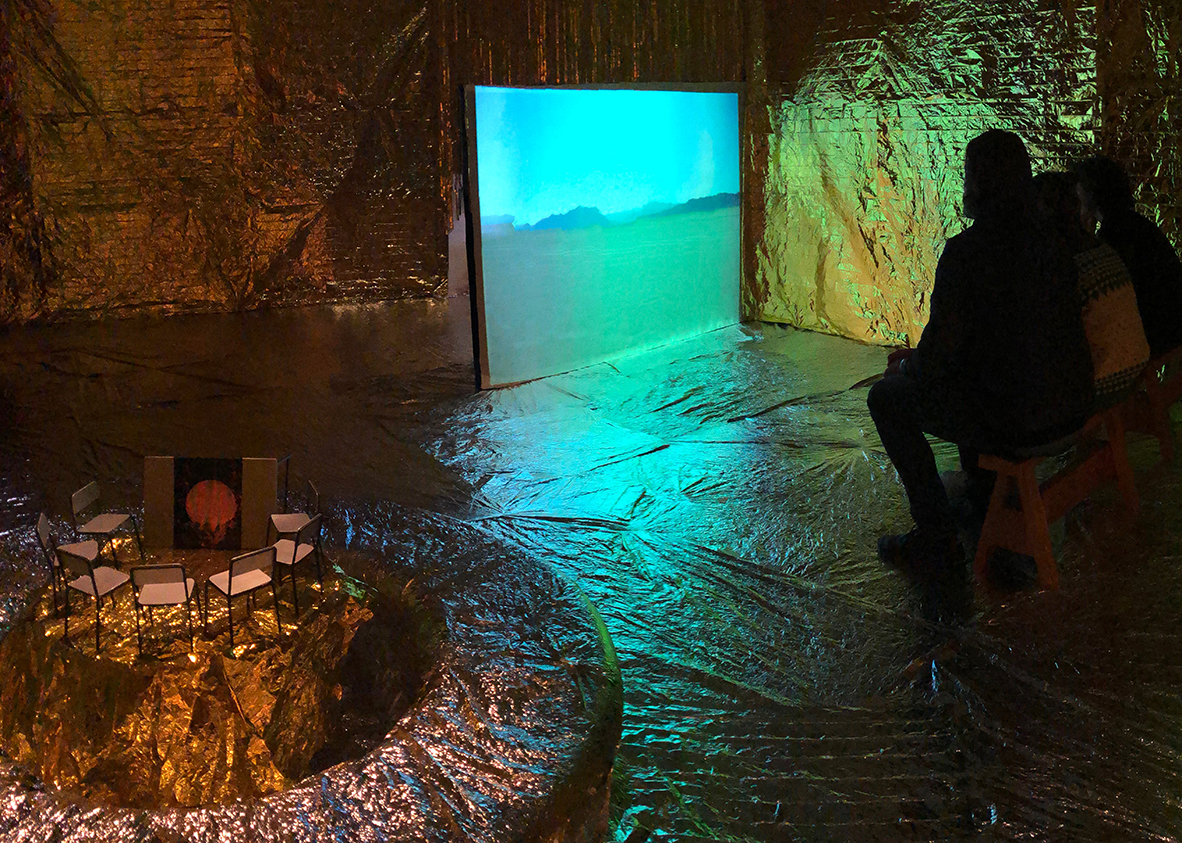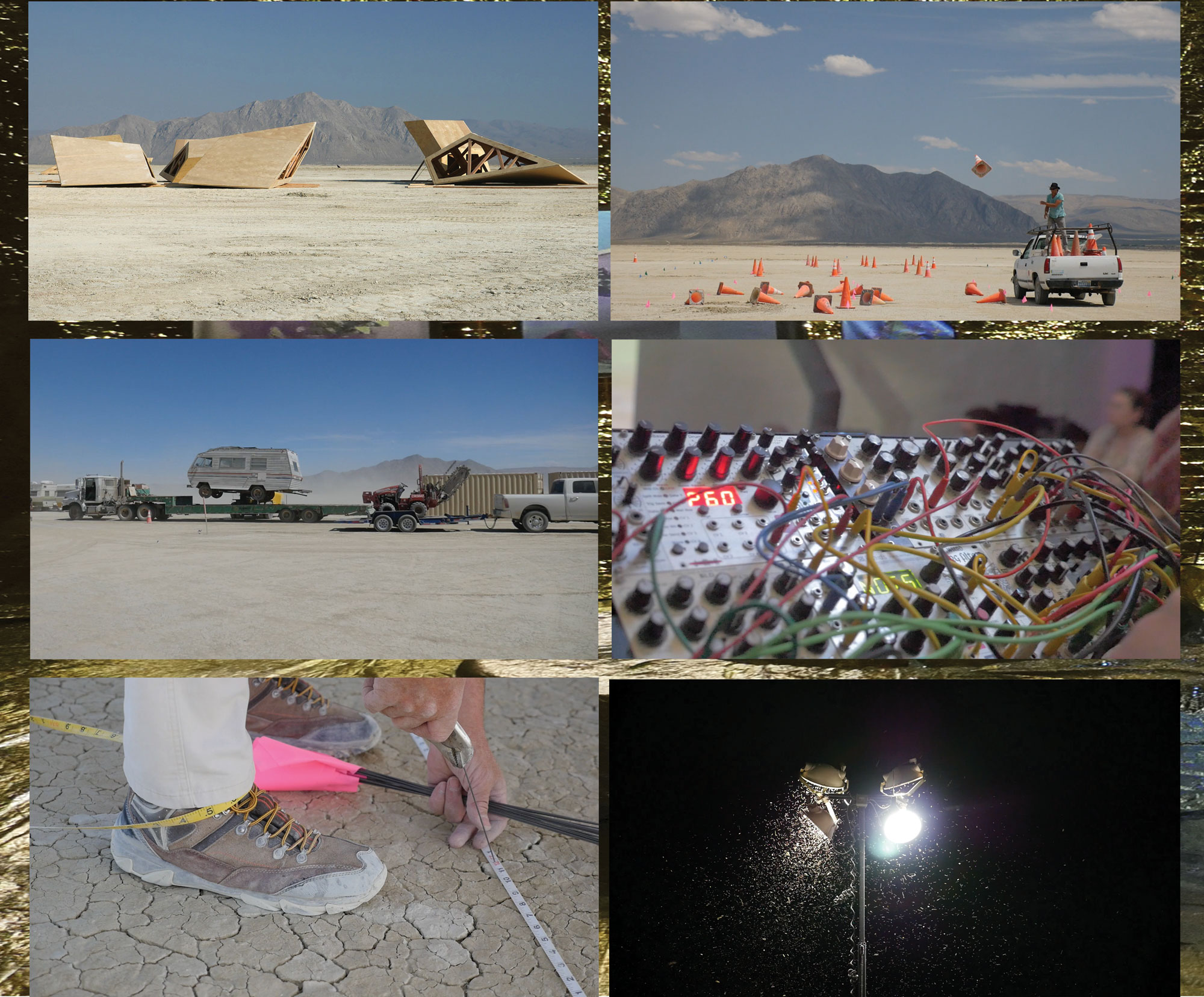 Geometric sprawl
22min, HD, 2019 Music performed by Sofus Forsberg at Decipher Performance Festival, Institut for X, Aarhus.
The setting of the film is uninhabitable and inhospitable to humans, yet those humans continue to explore, survey, construct, and colonize to survive. Like a forewarning of what might happen next, the main vquestion arises: how to inhabit, considering the changes to come due to global warming? As a certain critique of capitalism, Geometric sprawl documents a utopian act performed by a handful of characters building in a desert. Their actions are quite mechanical, within an apocalyptic atmosphere. In a space between documentary and fiction, the film is made up of sequences combined in a raw style. During the performance, Sofus Forsberg improvised music to the footage which greatly influenced and entered into the final edit of the film. The electronic repetition is leading to a space-trance-like state, it is accompanying a strange drive, where these humans seem to reconstruct a civilization, or maybe are simply attempting to colonize the forbidden space, the inhospitable?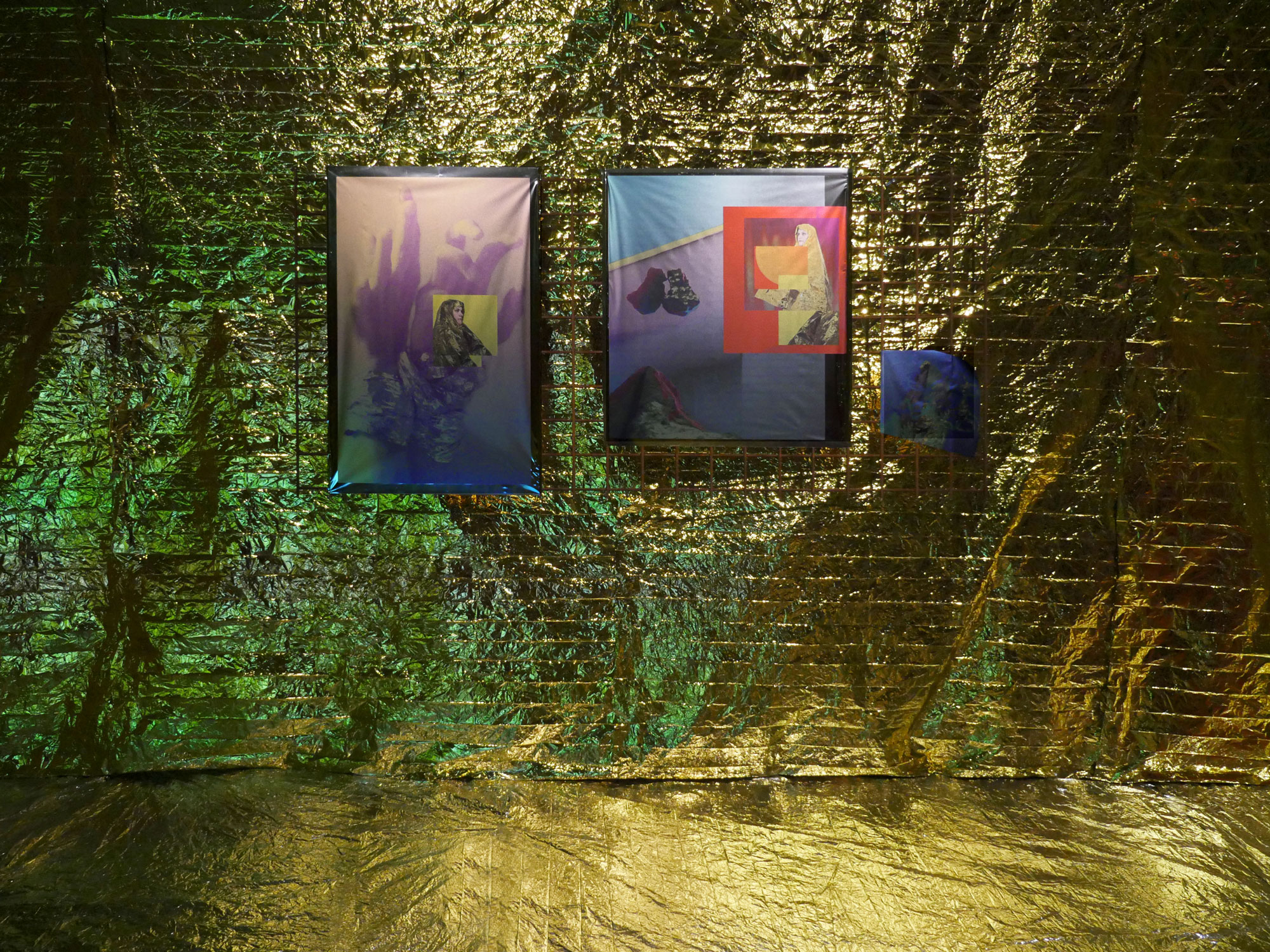 Survival wraps
Series of three photographies printed on aluminum stickers, glued on a metal grid, various dimensions, 2019.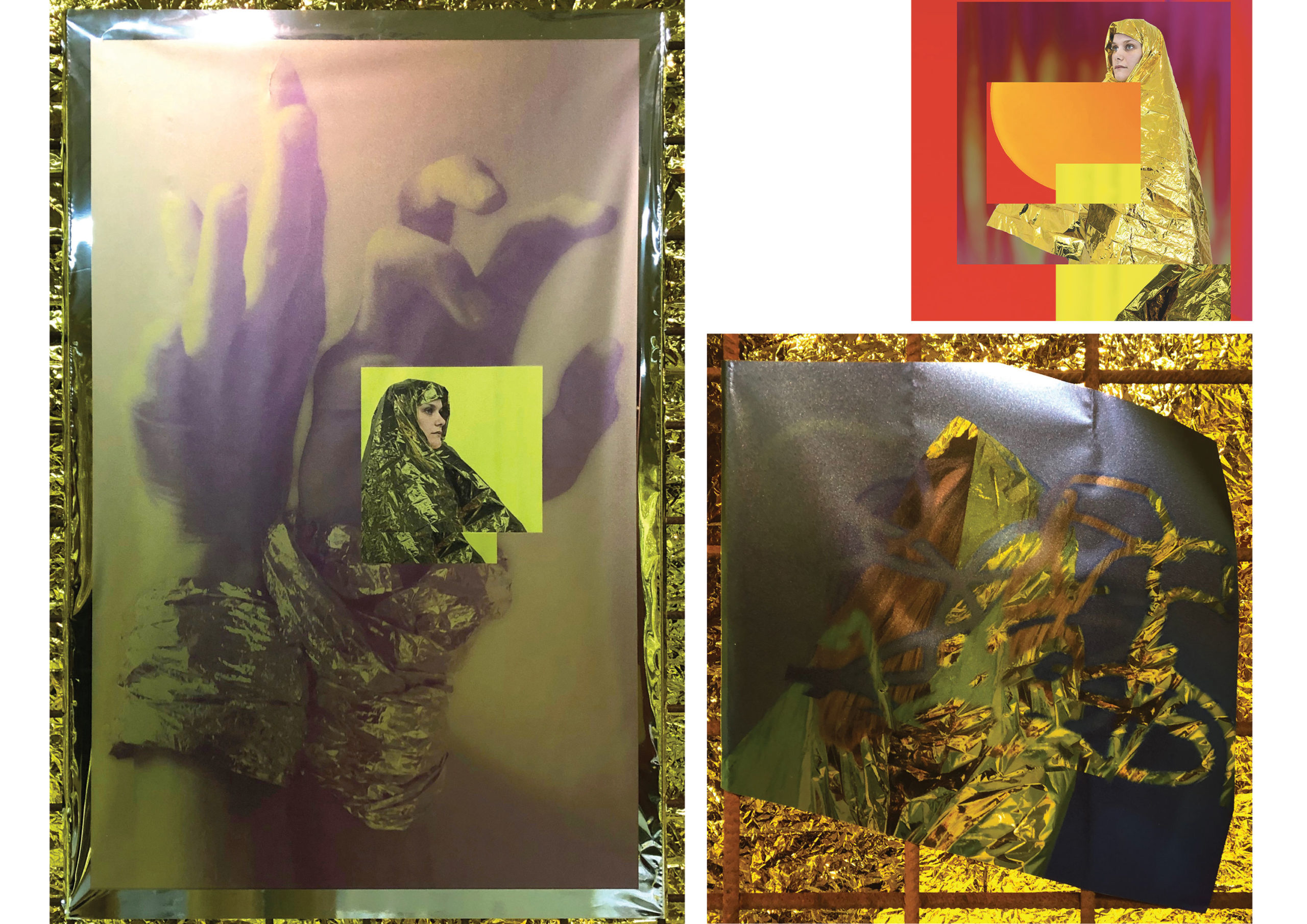 (arms and portrait with Hijab scarf), 64,5 x 96,5 cm ; (meteorite and portrait with Madona scarf), 74,5 x 81,5 cm ; (Time is out of joint), 30,5 x 32,5 cm.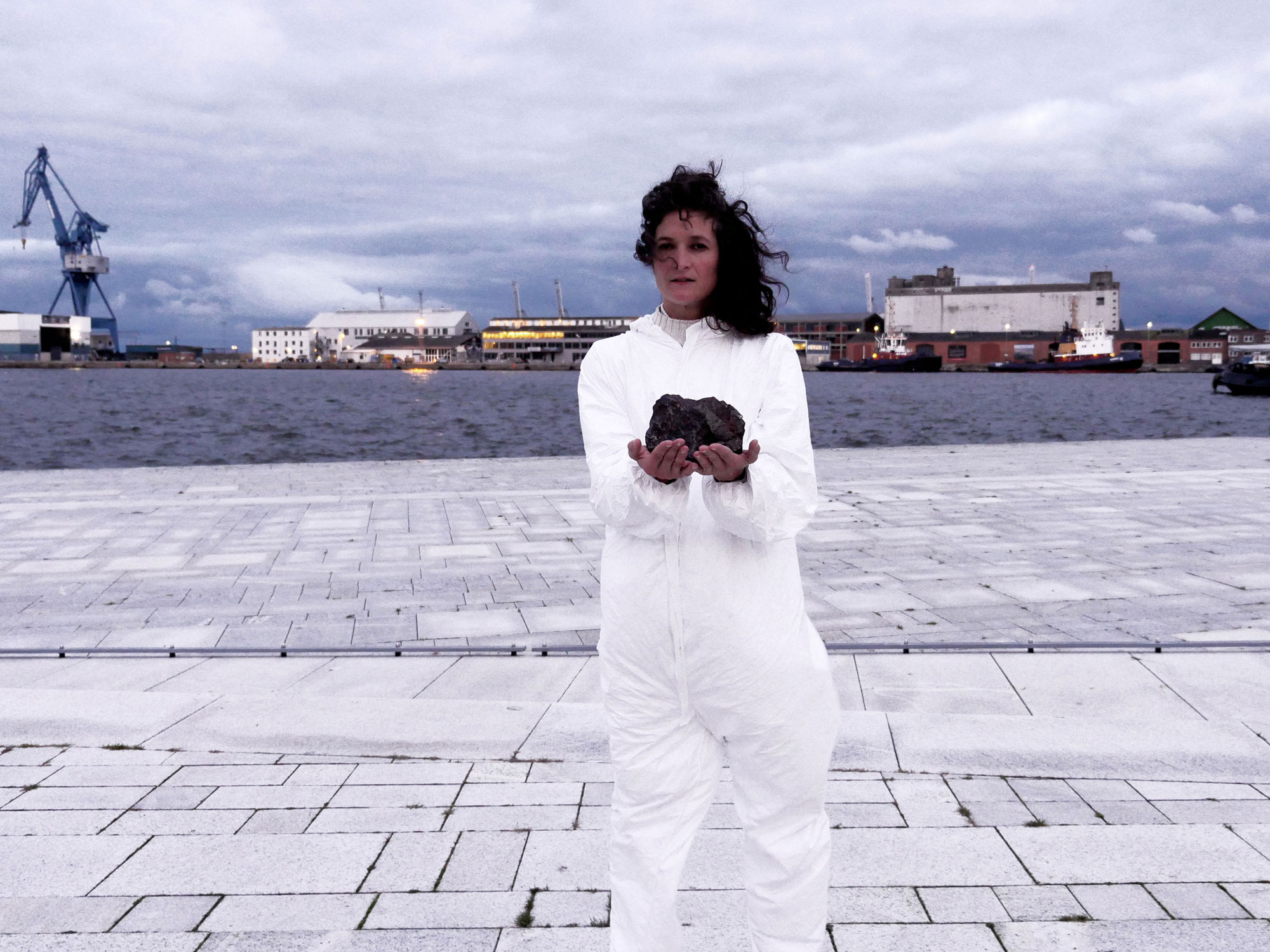 Meteorite's birthday performance walk, Aarhus (DK)
68 years on Earth – 4th of October 2019. 
Departing from Spanien19C, to the woodland of Risskov, I gave each participant a kit composed of a survival blanket (material I used for my show) and stickers with printed images and texts, that could be applied on the blanket during the walk. I invited astronomer Ole J. Knudsen and art critic Mille H. Nielsen to propose punctuated stops for short tales during the walk.
Read the press release by Mille H. Nielsen
Read the Aarhus Stiftstidende article by Christian Salling