solo show, Imposed Figure 9, Jeanne d'Arc Chapel Art Center, Thouars (FR), 2010.


« Imposed Figure » is an invitation made to an artist to do a specific research for several months on an imposed theme, that leads to a personal exhibition at the Chapelle Jeanne d'Arc Art Center. Invited to work on the theme of rivers in the city environment, Christine Laquet focused her attention on the exceptional abundance of fossils on this territory. The Toarcien time, 9 million years ago, was covered of water and it takes its name from Thouars city.
Following her encounter with a bricklayer craftsman in Saint-Léger de Montbrun, she decided to produce many ceramics for her exhibition, as if she could add them to the geological strata and in turn leave a trace that could survive the years to come. If the flow of water was wild before it became a means of circulation and conquest, it is a well-domesticated movement to this day. She quickly found out that the access of the city rivers are here often in private access and only devoted to leisure. The artist tries to reactivate the memory of these flows, observes their current realities and revisits patterns, objects characteristic of the river environment where forms of the past meet those of today. Here, the kayak becomes the very distant descendant of the drakkars with conquering figureheads. It even seems that these are the same monstrous animals that open the waters of the conquering boats, as those that drain the water from the churches. A link is forged, because exhibiting in a chapel (dispossessed of gargoyles) and that became an art center is not trivial for the artist. Meanwhile, the Vikings ceased their cruel explorations as they Christianize, while little monsters appear at these places of worship soon after. The exhibition opens with the erection of a wall made of soil, that blocks the entrance to the exhibition, above which a word RIVIERA (ceramics and LEDs) shines in blue-white-red. Title of the exhibition, RIVIERA refers to the brilliance and luxuriance of the French Riviera, as the local economy suffers a severe economic recession. Laquet here winks at her cult film Pierrot le fou (J.L.G.), where the word life flashes: "In desire, there is life: I wanted, I was alive". In the cloister, a giant fishing rod spins slowly, searching for its prey. Scattered across space, giant water spiders appear to float on the ground. In the crypt, we are transported under the waters, where we follow the path of a crocodile who seems to have recolonized the rivers in Thouars. An installation reminiscent of a legend in a neighboring castle in Oiron." Jean-Luc Dorchies, curator.                                                                                                                                                                           
Traversée
Wood, painted ceramics sculptures (3 gargoyles, 2 kayaks, 4 boats,1 skull)
,
2010.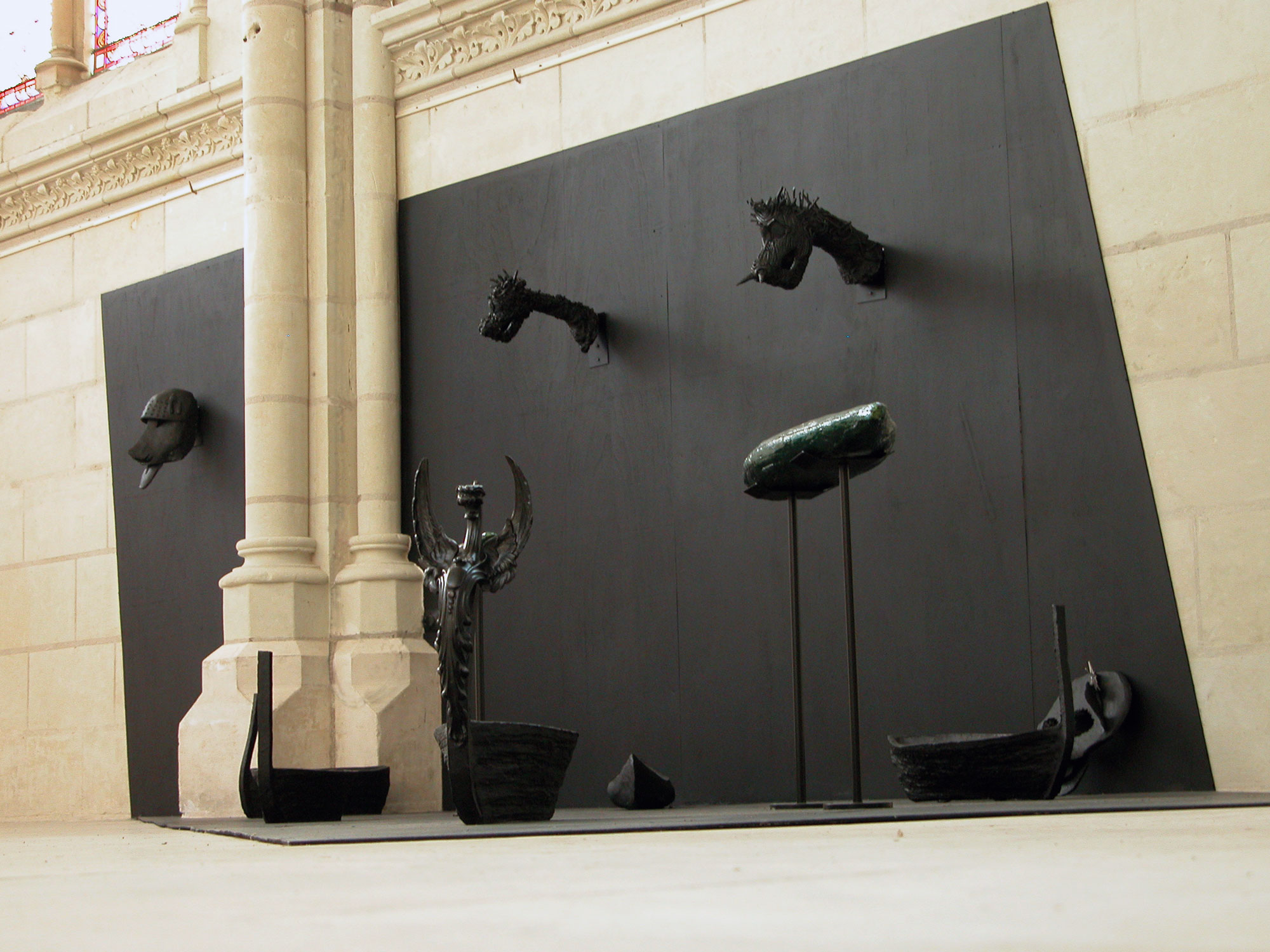 Fly Fishing
Techniques mixtes (acier galvanisé, moteur rotatif électrique, caoutchouc, cable), 2010.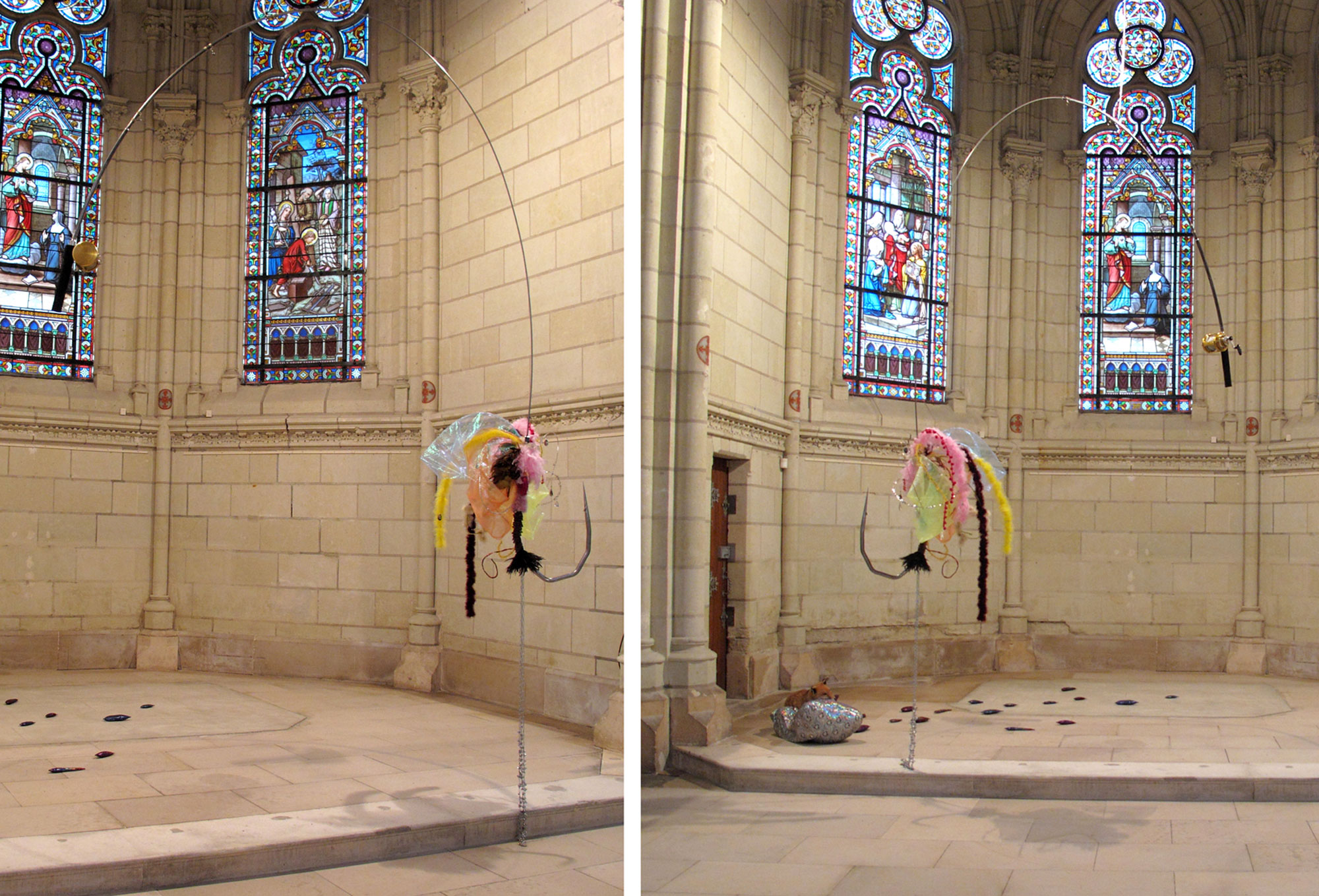 Water Spiders

7 painted ceramics, variable dimensions, 2010.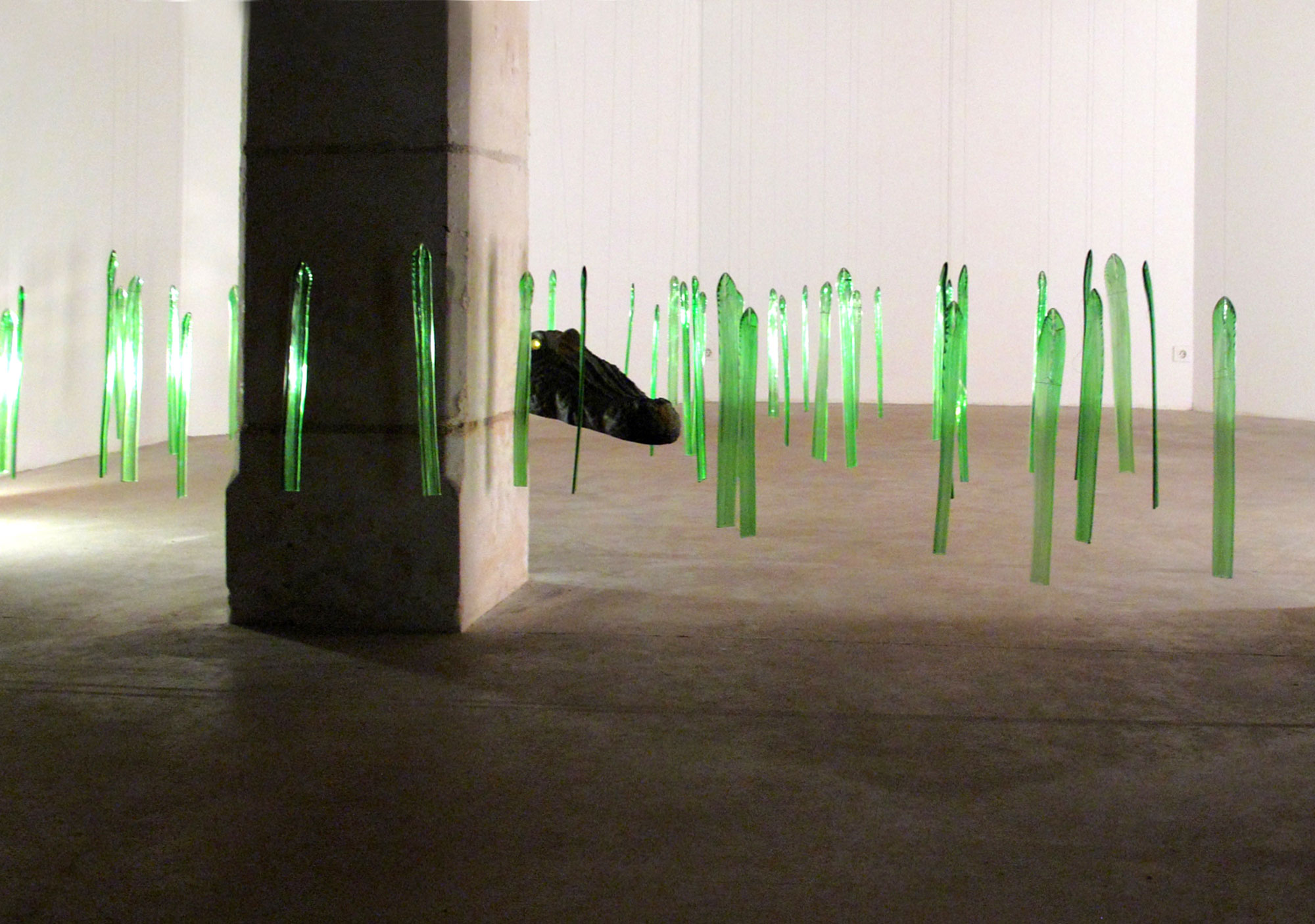 Link to the film Lure