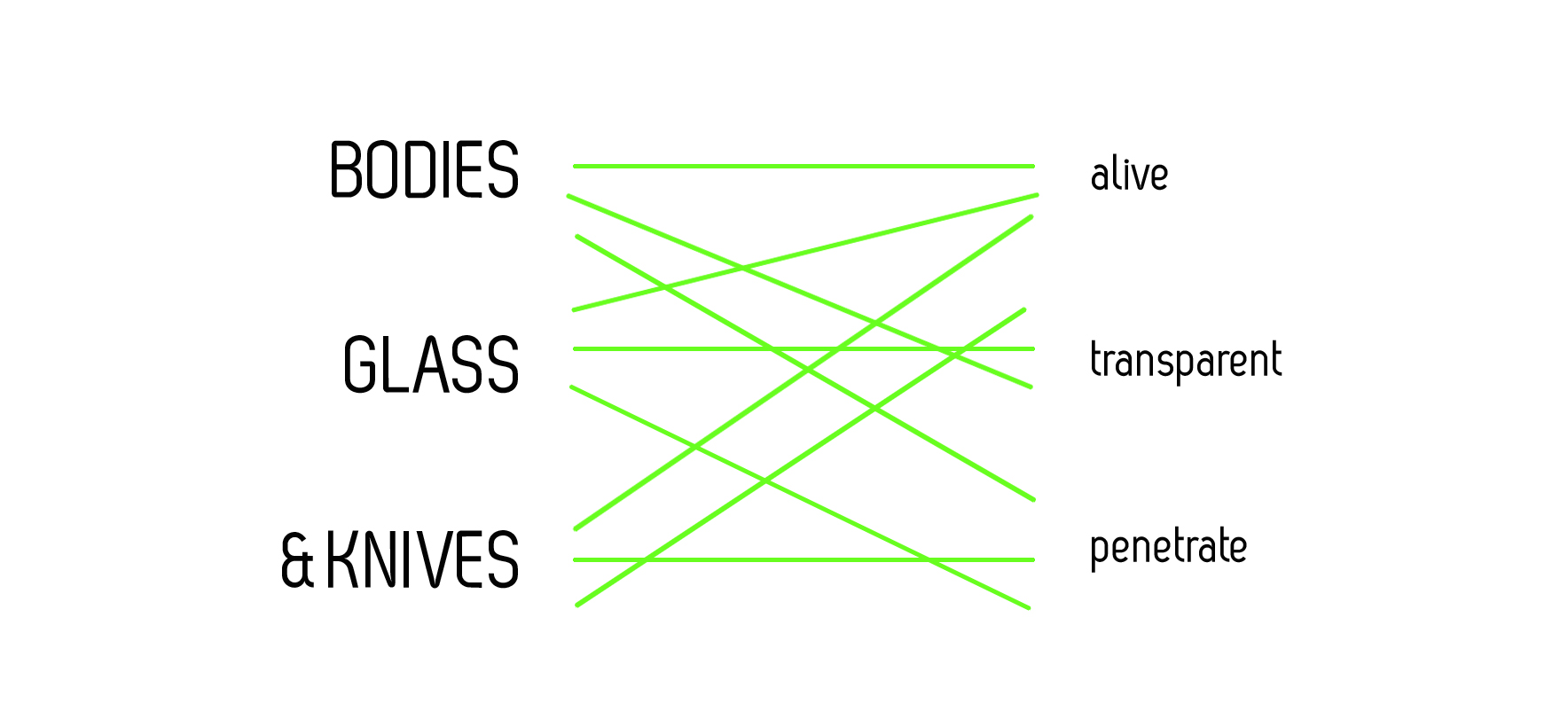 Thursday November 21 , 2013
Performance begins at 7:00 pm
The Pioneer Works Center for Art and Innovation
159 Pioneer Street (between Imlay & Conover streets)
Brooklyn, New York 11231
"In a dream-like sequence, a woman's eye is slit open" : Un chien andalou, L. Buñuel, S. Dalí, 1929.
The performance trajectory of BODIES, GLASS & KNIVES in the main hall of Pioneer Works, deals with the potential violence of knives versus our fragile perceptions of bodies in space. How are we able to "cut through"  the visible/invisible elements of our bodies, mind, and social constellations?
The knife has become a sparring partner in the collaborations of the visual artist Christine Laquet and the performer/director/writer Robert Steijn. Initially related to trance, ritual and shamanism as well as the Surrealist movement, the knife has haunted their practice. Simultaneously an embodiment of power and strength, the sharp object becomes an extension of the hand, as well as a metaphor for expressing mental gestures. The knife strengthens their desire to cut through layers of consciousness.
w/ special guest: Adrian Owen.
This performance is supported by the Pays de la Loire Region (France). RU is also grateful to its partnering organization Pioneer Works for offering workspace.
http://www.residencyunlimited.org/residents/2013/10/christine-laquet/
Robert Steijn is a Vienna & Amsterdam based performer/ director/ writer, working primarily in theater and dance. His latest works include: " It is in your hands stupid", a dance solo about hypnotizing spaces at Sinne, Art Space in Helsinki ( December 2012), "The deer dance/ an uptodate version of getting high in the clouds of my imagination" at Weld, Stockholm (March 2013), " Lust und Verrat / Körpermonologe " made for die Alte Galerie, an intimate dialogue with some objects of the museum for medieval and baroque art  in collaboration with Theater im Bahnhof  in Graz ( april 2013), and "The forest project", re-staging the spirit of "L'après-midi d'un faun" with a younger generation of choreographers in the forest of Steiermark during Steirische herbst 2013.  Steijn is currently performing at Performa (November 2013) with the piece "Premiere" by Maria Hassabi.
Christine Laquet obtained a Fine Art degree from the National Fine Art School of Lyon, France and the Ecole Cantonale d'Art of Lausane, Switzerland. Throught installation, painting, performance or video, Laquet questions the imagery of savagery and its remains in contemporary beliefs, creating familiar bonds between the social sphere and ritual habits. Her philosophical and poetic approach results in works where tenderness and violence intermingle. Her work has been widely exhibited both locally and internationally, and is included in public collections such as the FNAC and FRAC. She is a recipient of numerous research and production grants and has been exhibited in France in the Fine Art National Museum, the FRAC Pays-de-la-Loire, the L.A.I.T. Art Center, the Modest Art Museum, the Adhemar Castle Art Center and internationally (in Bangkok, Hanover, Innsbruck, New York City, Poznan, Recife, Sao Paolo, Seoul, amongst others).
Adrian Owen is a musician, artist, and builder.
Aside from swinging a hammer and providing face-melting guitar riffs, I am a classically trained Bass singer. My focus being on operatic repertoire and technique. I sing formal classical music as a chorister, soloist, and in roles. I explore the lines between performance art and operatic ideas, and as an artist/builder, I tend towards installation work, but much of the work itself, or the events associated, also accommodate performance.
–
Pioneer Works, Center for Art & Innovation is opening its doors for the center's first Open House/Open Studios on November 21, from 6 to 9PM.
Visitors are invited to explore and engage with recent work by our artists, educators and scientists in residence.
Molly Lowe, Shana Lutker, Ivan Forde, Bruno Levy, Joey Frank, Thomas Beale, Jason Saager, Cleek Schrey, and Christine Lacquet will all present recent artwork, including videos, installations and a special performance of Christine Laquet's piece Bodies, Glass, and Knives at 7:00pm sharp. Matthew Putman, the physicist and scientist-in-residence will open his lab to the public, and Pioneer Works Publishing will present their recent literary projects.
The Open Studios coincide with Chrysalis, Pioneer Works' fall exhibition by Brooklyn-based artist Chico MacMurtrie / Amorphic Robot Works, whose kinetic sculptures include musical and performing robots. The artist will activate his sculpture at 8pm that night.